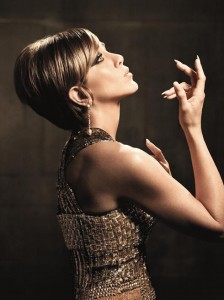 Friends alum, the funny and talented Jennifer Aniston can certainly act, though compared to her recent not-so spectacular movies, it is our wish that her upcoming comedy The Switch will give us our Jen back the way we love to see her: funny, and wonderfully skilled as an actress.  You gotta give it her. She does welcome a challenge as seen here channeling Barbra Streisand in the September issue of Harper's Bazaar, on newsstands Aug. 17.    
In this homage to the 68 year-old Oscar-, Grammy-, Emmy- and Tony-winning superstar, Barbra details were of huge importance.  Jennifer is seen wearing outfits inspired by Streisand's famous flicks such as  Funny Girl and What's Up, Doc . Aniston, 41, posed completely dedicated to Babs; from setting the mood while listening to the singer's 1964 song, "People," to sporting her idol's signature long fingernails…, and that hair.  Now, if Jen could release one Barbra calibre movie we all could sit through. We are a bunch of hopefulls.     
"People laugh at me. Sometimes I know why, and sometimes I don't. But I can pretty much find humor in anything. That is a necessary part of life. I don't want to say laughter is healing, because it sounds corny, but it's a release." Explains Aniston.    
Evaluating a life in the spotlight, Aniston responds: "[Barbra and I] are people who have been put in the spotlight, for better or for worse, and you just keep riding, and you keep overcoming."    
Good attitude. We're with you Jen!