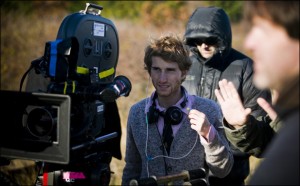 The misbegotten romantic adventures of older women and young men are a perennial favorite in La-La Land—think Anne Bancroft's aggressive seduction of Dustin Hoffman in "The Graduate"; the sweet bond between Bud Cort and Ruth Gordon in "Harold & Maude"; young bucks Diego Luna and Gael Gacia Bernal competing for the affections of Maribel Verdu in "Y tu Mama Tambien"; and Angela Basset sowing her wild oats with Taye Diggs in "How Stella Got Her Groove Back."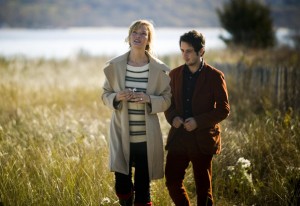 Next up: "Ceremony" from rising writer/director Max Winkler. Michael Angarano ("Almost Famous"), 23, is a n'er-do-well pining for his lost love, Uma Thurman, who will be 41 later this month. When he learns that Thurman's character is about to tie the knot, he labors mightily to win her back during her wedding weekend. Reese Thompson is the neurotic Jiminy Cricket to Angarano's character, while Lee Pace ("Pushing Daisies") is the swaggering, jerky fiance (aren't they all in these films?)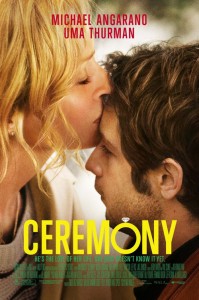 Winkler's name might ring a bell: He's the 28-year-old son of actor-filmmaker Henry Winkler. "Ceremony" screened at the Toronto Film Festival last summer and the SXSW Film Festival in March. It will hit the silver screen April 8 via Magnolia Pictures.
In press interviews, Winkler has played up the bittersweet aspects of his film. "I'd really be too embarrassed to ever refer to this movie as a romantic comedy," he told Moviefone. "I think what the movie tries to do is be equal parts sort of sad and equal parts sort of funny at the same time, which a lot of the movies I've always loved have done expertly with tone, whether it's Hal Ashby movies or Mike Nichols… So we just tried to do that as much as we could with this."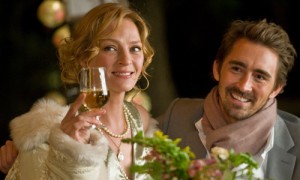 The filmmaker also notes the films older woman/younger man theme comes from "probably a pretty personal place," describing Angarano as "fearless and crazed and amazing" for accurately pulling off a sense of "innocent romance that no one else can touch, and he's yet to be corrupted and jaded by the fact that life isn't necessarily as good always as it is in the books or as it is in the movies."
Trivia note: Winkler is no stranger to feeling neurotic about his own work. He admits he has not watched "Ceremony" since post-production has been completed and may, in fact, never view it again.
Also, Winkler was voted one of "Paper" magazine's "Beautiful People" in March 2010. "I've never worn a leather jacket, and I never could," he joked. "It would be bad for my ego."
'Ceremony' begins: April 8, official movie site: http://www.ceremonyfilm.com/#
CLICK HERE for the Moviefone article.