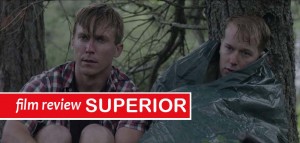 As seen at this year's Dances With Films 18 Festival, our review of Edd Benda's indie film, Superior.
This coming of age drama set in Michigan during the summer of 1969, follows best friends, Charlie (Thatcher Robinson) and Derek (Paul Stanko) at the crossroads between youth and adulthood. While the brawny and blond teenagers look alike, they are polar opposites. Derek, one part prankster and one part loafer, is staring at the Vietnam War as his only future prospect. While Charlie who is studious and introspective, is due to attend Michigan Tech University.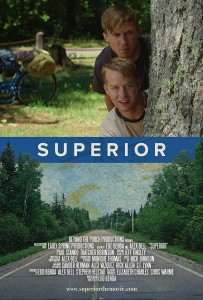 On the heels of a stunt gone awry, Derek proposes that they travel 1300 miles around Lake Superior. Charlie staunchly refuses. After all, he has class registration to think about, he has a job, and he doesn't like to take risks. However he concedes after seeing Derek being berated by his father.
Charlie and Derek hit the road on bikes and basically the clothes that they are wearing. The dialogue between the two attempts to show young men grappling with the meaning of their lives.  There is some talk about girls, but all very PG. The cinematography (by Alex Bell) is the shining star of the film and the shots of Lake Superior are breathtaking. Set direction also deserves an honorable mention. (I was sure Don Draper from "Mad Men" would make a cameo appearance). After what seems like a long stretch of bikes and trees, there is a well needed break when Derek and Charlie meet two waitresses and a strange man at a Minnesota diner. Other stops along the way, include running across the Canadian border, meeting an eccentric gun toting man, and spending the night at a funeral parlor. At the end of the movie Derek makes a surprise decision regarding his future.
Robinson and Stanko give strong performances as Charlie and Derek. While the dialogue feels very safe, and begs for more drama and risk, Edd Benda's feature directorial debut is solid. We will definitely be seeing more of his work.
CLICK HERE to see the film's trailer.
CLICK HERE for the film's official website.