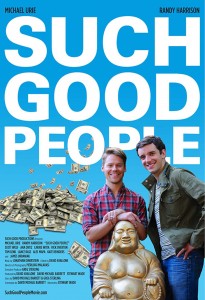 There's a running joke with 'gay' films that if the story doesn't have some sort of punishing sexuality-related tragedy or at least one unrequited love affair with a hot 'questioning' roommate, then chances are that movie isn't gonna get made. Whether it's true or not, however, it actually makes sense; considering the fact that the homosexual narrative has often been one characterized, at it's worst, by struggle, hardship, and death, and at it's best, by far too many one-sided crushes to count.
CLICK HERE to watch our exclusive red carpet interviews of Such Good People.
With that in mind, it's always refreshing to see a film come around like Stewart Wade's Such Good People. Sure the story leaves a bit to be desired, and the played-out self-/consumer-obsessed homo trope needs to be retired, but winning performances and an infectious spirit make this one refreshingly easy breezy.
Richard (Michael Urie) and Alex (Randy Harrison) are a young, upwardly mobile couple living a blissful life in sunny Los Angeles. In fact, all that's missing from their James Perse-sponsored, Instagram-ready existence is the perfect house within which to make even more enviable memories. That is until they stumble upon a 1920's Craftsman in Silver Lake with a picturesque charm and a spacious yard that has their names written all over it.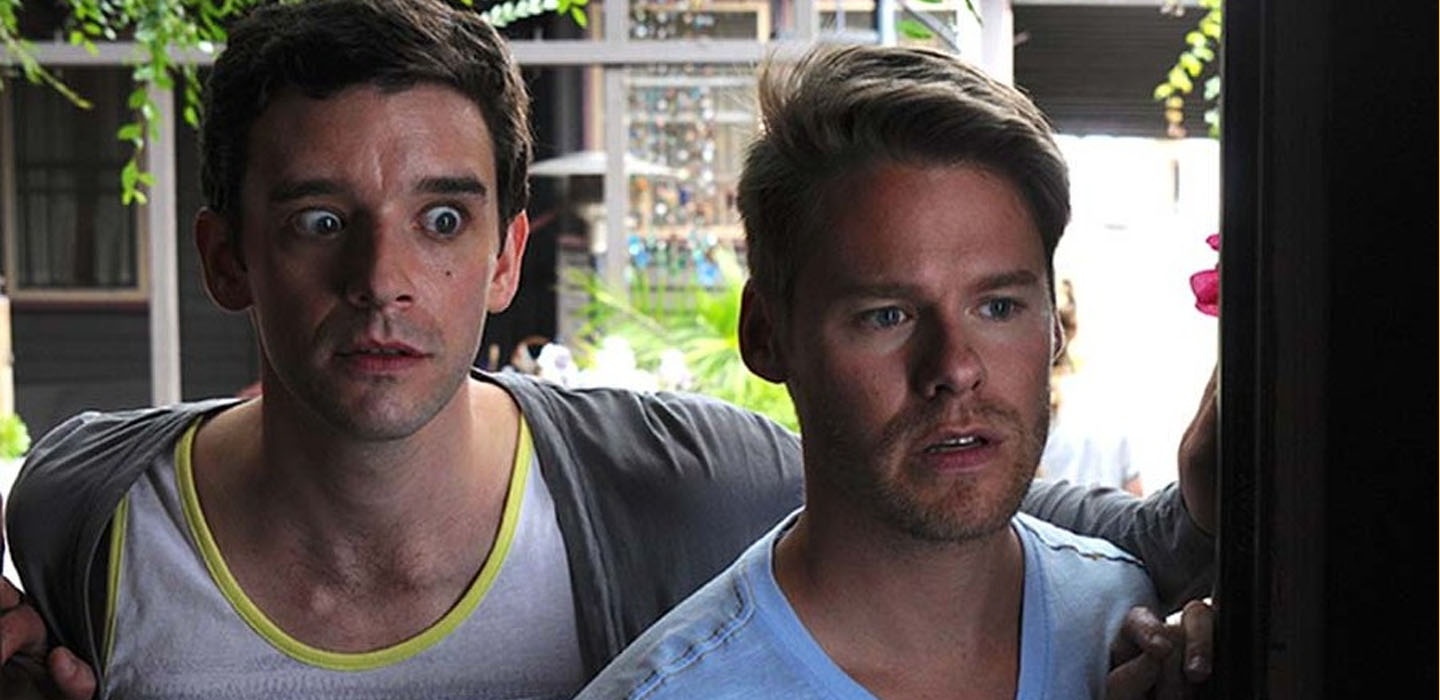 And when the house's owners, well-intentioned if sappy do-gooders, Jake, and Chloe (Scott Wolf, Kate Reinders), choose Richard and Alex to house/dog sit for a few weeks while they're off doing charity work in Bhutan, it seems like fate might actually be on the boys' side. Until they find a stash of untraceable cash in their temporary new home, Jake and Chloe mysteriously disappear, and suddenly everyone, from the cops to Alex's one-upper of a sister (Carrie Wiita) and her smart-alec husband (James Urbaniak) wants some answers.
Ahhh, the things some people will do for real estate… especially gays. At least, that's what homo-centric film and television seem hell-bent on hammering into our heads. According to these self-appointed arbiters of our culture, body obsession, snark, and consumer one-upmanship are simply the name of the game if you're a same-sex dater – accept this fact and laugh at it or go insane… And laugh at it Wade does, mining a paper thin script from David Michael Barret (sharing story credit with Greg Sterling) for every bit of precious comedy, and in the meantime, achieving a delightfully post-gay sensibility in which persecution, self-hate, and death factor refreshingly little.
It helps as well that in Michael Urie, a gifted performer who's been stealing scenes on both the stage (Buyer & Cellar) and screen (Ugly Betty) for years now, the director's got first class help. Though saddled with much of the same eye-rolling, akimbo flashing pantomime that was revolutionary back in the 90's when Sean Hayes did it, but has now become lazy and old-hat, he still manages to insert a bit of his unique, often devilish charm, suggesting that given a complex leading role in a film, he could really soar.
Harrison, the lithe former star of Queer As Folk doesn't fare as well, but fortunately, his chemistry with Urie makes up for it. Otherwise Lance Bass, Alec Mapa, Drew Droege, and Urie's Ugly Betty co-star, Ana Ortiz all stop by for a piece of the action, but it's Wiita and Urbaniak, as two emotionally stunted shrinks, who practically steal the show.
Derivative but boosted by some great performances and a director's light touch, Such Good People is a perfectly fun film for summer.
 CLICK HERE to see our exclusive red carpet interviews with the cast and the filmmaker of Such Good People.