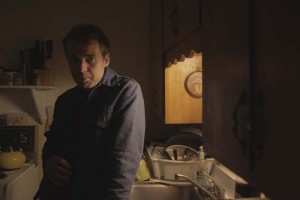 This week we streamed an unusually interesting film that grew on us and kept us watching.

Different Drum is a charming little film. And by little, we mean very indie, with a shoestring production budget under $10k, home grown, with local talent.

Tod and Lydia (played by newbies, Zach Zint and Isabella DeVoy) deal with their past during a road trip to a wedding, The discomfort of the physical and mental space they find themselves in act as a catalyst for surfacing old feelings and unresolved items. Tension and peace struggle to find a balance and a return to better days.

Written and directed by Kevin Chenault, less is more with this film. One must watch attentively to pick out outbursts and hints to what went down with the two seemingly passive, private couple.

Brave New Hollywood was told by Chenault, that the footage was shot on Canon 7D, using old, scratched Nikon lenses, utilizing available light.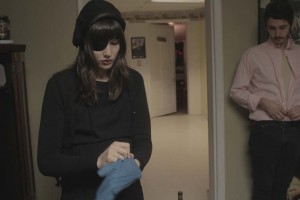 The indie was shot on location, in Iowa, South Dakota, Wisconsin, Illinois, & Indiana, using actors from Evansville, Indiana.

Along with the variety of local business signs and voyeuristic shots of store fronts, across the street, as characters interact inside, the film documents everyday America with a strong sense of nostalgia, signaling the loss of the good 'ol days. The visual landscape and the pace are reminiscent of earlier films by John Schlesinger, and Robert Altman. In its overall presentation, Different Drum makes Kevin Chenault a very American director, one we will keep an eye on.

To us, the intimacy of Different Drum comes from the use of available light, its soft spoken, gentle characters who thankfully do not mumble. The young duo feels somewhat personable, life-like, and accessible. The softened color palate and a great taste in carefully selected independent music serve this film significantly. 
Zach Zint is a handsome, quiet type with a movie-star charm that is all his own.

The beautiful Isbalella DeVoy is the all-American girl everyone with eyes will crush on. Her onscreen appeal is undeniable and as the film progresses she proves to add more substance to her character.

Can you tell we like these two?

Aside from minor sound issues, or what feels like muffled voices at times, we still understand the actors when they speak.

Actor, Joseph Dodd (as the cousin) along with couple of characters serve as interesting, perhaps necessary distractions, but for the most part we can take them or leave them. They help break away from the main couple, but their characters require more meat and their acting more energy in order for them to serve a purpose.

Different Drum is an authentically appealing exploration of love and communication that provides a time-capsule worthy representation of Americana.

CLICK HERE to watch the trailer for Different Drum.