Texan filmmaker, Josh Ridgway is the man behind HIGH MOON, the 2019 indie film that blends Western, Horror, and Action film genres together into a stylish, beautifully shot, and playful ride, with nods to John Carpenter and Grindhouse flicks. In HIGH MOON, An old west gunslinger, played by Chad Michal Collins (SNIPER: Ultimate Kill)) returns from the dead to fight a gang of blood-thirsty werewolves in the present day.
In a Q&A with Brave New Hollywood, we set out to find out more about HIGH MOON from its creator, writer-director Ridgway.
Watch the film's trailer at the bottom of this article. 
BNH: Josh, how did you realize you have a passion for the visual arts and filmmaking?
JR: Wow. Tough question. Honestly, I think it was just something that was always there. I attempted to write my first novel in first grade. It was about a dog who robbed banks owned by evil dogs so he could save the pound he lived in. (chuckles)
My mother and my teachers were pretty proud of it. My Mom still has a copy of it she claims, but I've just always loved stories and movies. I kept piles of legal pads around growing up and I would just write out ideas for films or tv shows or whatever. I still do that to the day. As far as the actual visual style of filmmaking, I didn't learn that until later in my 20's. It's a very complex process and I don't think you stop learning.
BNH: Where did you get your start?
JR: when I started out in the business? I was very young. I started doing theater at age 13 and got a talent agent when I was 14. My aunt was an actress. She did some movies and commercials in the 70s and 80s. She played Jan Michael Vincent's wife in THE MECHANIC with Charles Bronson and she was married to an actor, Michael Horse, as I was growing up. He was on TWIN PEAKS when I first started out. So, I think that was the catalyst into getting me started.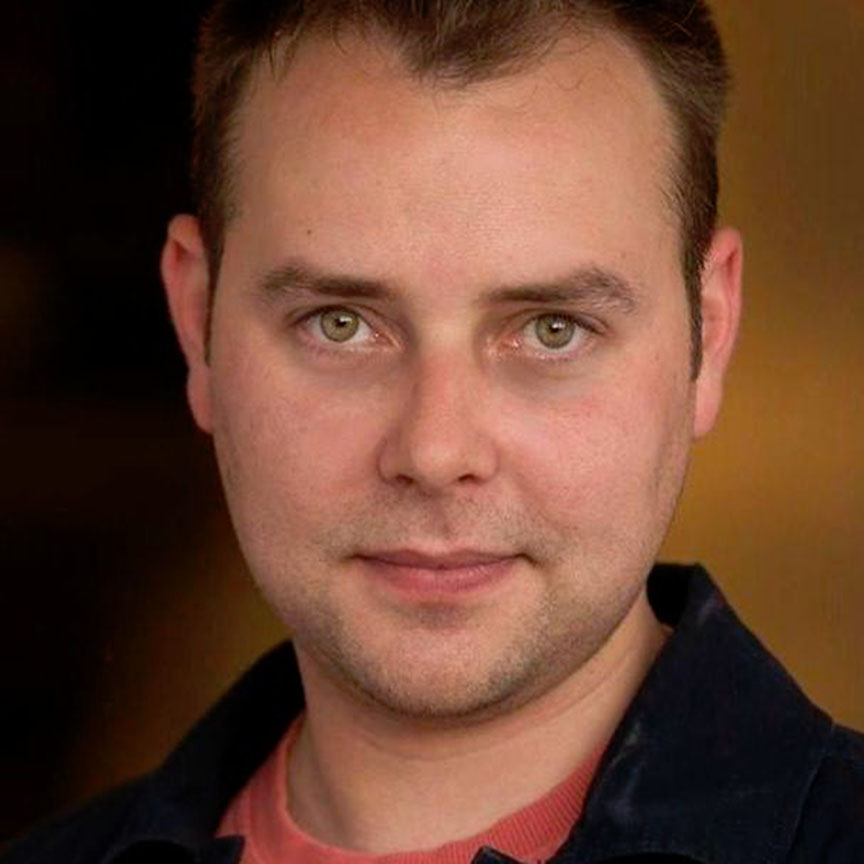 BNH: How did you come up with the idea for HIGH MOON (previously known as Howlers)?
JR: The idea came in waves. I've always loved westerns and I love monster movies. I was reading a lot of Robert E. Howard at the time I came up with the idea for the film so there was inspiration there, but a little known fact, when I was in high school Bruce Campbell had a TV show called Brisco County Jr. It was one of my favorite shows of all time next to the 1990 Flash. They both still are to the day. I remember sitting in math class, in high school, and I had no interest in numbers so I started writing out ideas for episodes that I'd like to see on Brisco County Jr and one of them, naturally, had Brisco up against a werewolf. So, as you can see, I'd been toiling with the idea for a long time.
BNH: You also applied a visual style and tone to this film. Can you tell us when and how you decided on that and why you wanted them to be the elements of this film?
JR: Yeah, I wanted this film to have a certain look about it. I had several conversations with my DP Ron McPhearson about it and we watched so many horror movies from
Phantasm
to
Halloween
to
Evil Dead
. We decided we wanted to go with those sinister blues that gave
Halloween
such a great look and we wanted to utilize the shadows in the way they did on many old horror movies. Not something I would recommend to a filmmaker making a movie on an excessively low budget. The set up's can be very time consuming, but if you have the right team and the will, it is possible.
BNH: Is it fair to call it a multi-genre and a genre-bending film? How careful were you in approaching that aspect?
Yes, it is a genre-bending film. I love mashups. I love crossovers. While most distribution companies and backers aren't keen on the idea of mixing genres because they don't know how to sell them, I personally would do every film as a genre mashup if I could. It breaks the rules. It gives you creative freedom. It gives fans a taste of something different. I've been around a long time and I've seen a lot of things change. I've seen famous faces fade into obscurity and trends go out of style as fast as they appeared. So, I just went into it unafraid. I just go on the belief, if you make a fun movie, people will want it. No matter who the actors are, no matter how odd the movie may seem.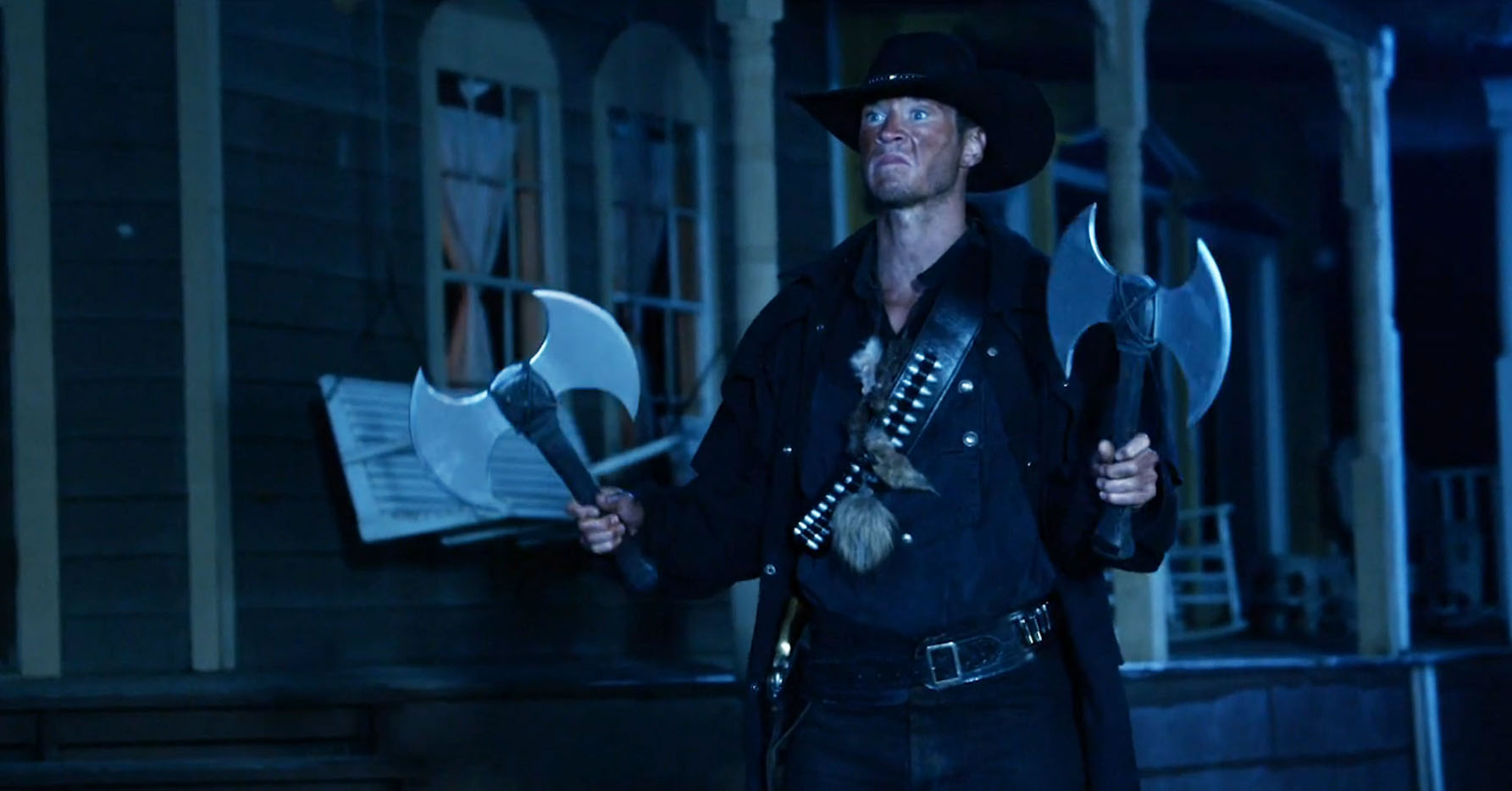 BNH: Speaking of actors, how did you decide on casting Chad Michael Collins?
JR: Chad Michael Collins was recommended to me by a producing partner of mine. I had seen Chad in the Sniper films and I'm a fan of that franchise, so when Chad's name came up, I knew he was the guy to take on this role. I was so afraid of casting that character. I dreaded it for the longest time, but Chad was one of the first people that came to the table and casting him was one of the easiest parts of the whole process, ironically enough.
BNH: What does he bring to the role?
JR: Chad is how I visualized Colt when I wrote him. He's the American boy. Well mannered. I wanted Colt to be old fashion. Most heroes today are so flawed to the point where we can't even decide if we like them or not. I wanted to take an old school approach and Chad just nailed every aspect of that role including the physical challenges he faced as an actor. He was definitely a positive presence on the set and he helped us all get through some tough days.
Josh Ridgway: "I love mashups. I love crossovers. While most distribution companies and backers aren't keen on the idea of mixing genres because they don't know how to sell them, I personally would do every film as a genre mashup if I could."
BNH: You are also an actor. How did that skill benefit you and the production as you stepped behind the camera to direct?
JR: I used to be an actor. I was more of a kid actor than anything. I got in and out of it so much. Sometimes I loved it, sometimes I hated it, but in the end for me personally, I ended up hating it and I'm glad that part of me is locked away and I've made my peace with it. Don't get me wrong. I love actors and I know what they go through, so I tend to have more compassion towards actors than most. On the flip side, when they want to go head to head with me on a production, I have the ability to see when they are challenging me as well. I wouldn't take back my acting years for anything. It's given me a much greater understanding of the filmmaking process.
BNH: Would you recommend all directors to take some acting classes?
JR: Absolutely, I would recommend any director take some acting classes, just to get a gauge of what the actors are thinking of going into a shoot.
BNH: Who are the actors, actresses that influenced you and why?
JR: I've always been fascinated with the lesser known actors and actresses. I guess the most famous actor that really has always inspired me is James Spader. I worked with him on a film when I was a teenage actor and that guy was just mystical. And I liked James as a person. I've probably seen everything he's done and even to his current TV series The Blacklist. I'm amazed by the kind of performances he is able to pull off on a TV show which has a very fast paced and sometimes grueling schedule. But I've always liked guys like Bruce Campbell, Lance Henriksen, Robert Patrick, Michael Madsen, those are the guys I'm nostalgic. The actresses I like, there are so many! The biggest star name I would say is Charlize Theron, the working actresses I loved growing up were Madeline Stowe, Drew Barrymore, Dina Meyer, Mia Sara. I'd still love to do a movie with any of those women and write them as a heroine!
BNH: How about filmmakers? Who were the directors that influenced you?
JR: Directors, that's an easy one; John Carpenter is probably my favorite director of all; he just has the ultimate career. He came at a time when he was able to unleash his child-like creativity and I never missed one he put out in theaters. I love Sam Raimi, James Cameron, Stephen Sommers, Don Coscarelli, Fred Dekker, Shane Black. And I'll always have a place in my heart for Sir Ridley Scott!
BNH: Can you tell us about the challenges of making HIGH MOON and the best, the fun part of creating the movie?
JR: There were probably more challenges than fun when it came to making HIGH MOON. The werewolves, we did practically, and because there were so many of them, it caused problems with the shooting schedule. We would be ready to shoot and the makeup artists would still need another hour with them to look right. We shot on a low budget which always brings its challenges. The finance backers were new to the game as well. They didn't understand the process and nor did they want to. Filming was cut off before we completed the movie which left big gaps to fill. I feel like ultimately we covered it pretty well, by doing some minor additional shooting where I basically relied on imagery,  but it was like pulling teeth trying to put this film together. Luckily, I had a very sympathetic editor who helped me a lot. Jeff Murphy, shout out there, and a producer, Rishi Chitkara, another shout out, who helped me maintain my sanity through it all. There was enjoyment on the shoot as well. I liked working with Chad Michael Collins and getting to know him and Sean Patrick Flanery was a blast. Overall, I don't live with regrets. I'm happy I made HIGH MOON  and I hope many will dig it!
BNH: Would you like to tell us about upcoming films projects? What can you share?
JR: I am stepping behind the camera again, soon. I am directing a script that I wrote when I was younger. It's obviously evolved over the years, but it's a sci-fi, cop movie and I'll be teaming up with Chad Collins once again along with our friend and producer Doug Pasko who just produced two seasons of the CW TV show "The Outpost". So, we're very excited to roll the cameras on that one. Doug will be a mega producer one day. He's very savvy and respectful to the process. I'm really looking forward to it.
BNH: When you are not making films, what other activities do you enjoy?
JR: When I'm not making films, I write. I'm always writing script after script. I never know if it's one I will sell or direct, or do both. I just have to keep writing, When I'm not doing that, I'm spending time with my dog.
Thank you, Josh! We liked HIGH MOON and hope people will watch and enjoy it as we did.
HIGH MOON is available now on VOD platforms (
Amazon Prime
, iTunes, Google Play).
Below, watch the trailer for HIGH MOON.