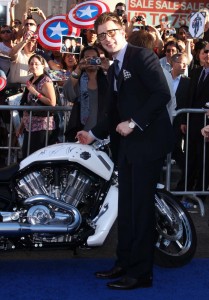 Matinee idol and onscreen superhero Chris Evans will replace the perpetually overscheduled James Franco in the dark drama "The Iceman." Evans is stepping quickly into the role with little prep time as the picture is scheduled to begin filming in December, reports Deadline. (See Chris Evans as a high school student HERE).
He will play Robert Pronge, the mentor to Richard Kuklinski, a contract killer for the mob—known as "The Iceman"—with the latter role filled by Oscar nominee Michael Shannon ("Revolutionary Road"). The script is adapted from the nonfiction book by Anthony Bruno. Director Ariel Vromen is behind the camera for Millennium Films and Nu Image.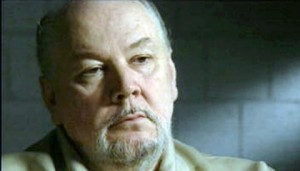 Evans is red-hot right now following the global success of "The First Avenger: Captain America." He will reprise the role in next summer's "The Avengers" for director Joss Whedon.
"Kuklinski killed his first victim at the age of [13] and went on to become one of the more sought-after hitmen, working for the Mafia for 30 years," reports Comic Book Resources. "At the same time, Kuklinski got married and had three kids without anyone being the wiser."
The "Iceman" nickname "came not only from his cold demeanor, but also his use of cooling agents to throw off time of death estimations." He was finally arrested in 1996. While imprisoned, he gave many interviews spelling out the gruesome details of his decades of work as a hitman. Kuklinski finally died of natural causes in '06. 
Read the book The Iceman: The True Story of a Cold-Blooded Killer).
"Evans will be playing an assassin known as Mr. Softee who not only used an ice cream truck to stay inconspicuous, but also taught Kuklinski a few tricks of the trade," CBR notes.
The supporting cast is set to include Maggie Gyllenhaal, Ray Liotta and David Schwimmer.
CLICK HERE for the CBR story.