Is this a case of art imitates art? Green Day lead singer Billie Joe Armstrong is joining the cast of "American Idiot," the Broadway musical based on his band's 2004 album, reports The Hollywood Reporter. It's kinda' like starring in your own bio-pic. Billy Joe will make his Broadway debut Sept. 28 playing a drug dealer – pretty much a key cast member.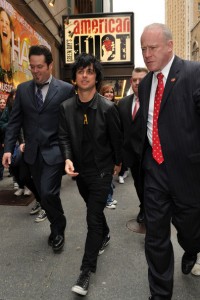 The Green Day frontman, who composed and co-wrote the musical, is actually filling in for actor Tony Vincent, who is on leave for a personal family matter, according to producers. Vincent is expected to return Oct. 12.
"Idiot," the musical originated in Berkeley, Calif., and centers around a group of teenagers rebelling against their dull life in suburbia. Billie Joe will only appear in eight performances until early October. He then must leave for the band's South American tour.  Which one of you lucky people's got tickets to these shows?