It's never easy to follow in the professional footsteps of an illustrious parent… especially when said parent is none other than 5-time Emmy Award Winning actor, Kelsey Grammer.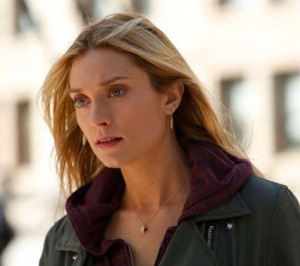 Rising Star: Spencer Grammer.
For those of you living under a rock (or too young to remember him as anything other than Camille's ex on ("The Real Housewives Of Beverly Hills"), Grammer famously portrayed lovably highfalutin psychologist, Dr. Frasier Crane, on television for an incredible two decades – first on Cheers (from 1984 to 1993) and then on its equally iconic spin-off "Frasier" (from 1993 to 2004). In fact, the TV titan shares the distinction, along with Gunsmoke's James Arness, of having played his role longer than anyone else in Primetime history (that's 20 years in case you weren't paying attention).
Needless to say, it would be perfectly understandable, given the above information, if Spencer Grammer, the eldest daughter of the television icon, chose a different career path for herself… one not as likely to warrant such overwhelming and unfair comparisons to dear old dad. However, this talented starlet isn't about to let a little pressure rattle her nerves. At only 30-years-old, the happily married wife and mom – to 2-year –old son, Emmett – has already been appearing on television for about as long as her father brought Frasier Crane into America's homes.
A budding performer from the start, the younger Grammer garnered her first professional TV gig guest starring on Cheers in 1992. Then, the LA teen – her mom is Kelsey's first wife, dancer Doreen Alderman – took some time off to be a normal kid before returning to the small screen in 2005 with a guest spot on NBC's Third Watch. After that however, she quickly moved on to higher profile TV jobs (Law & Order: SVU, Robot Chicken, As The World Turns) as well as a bit a part in Chad Lowe's 2006 film, Beautiful, Ohio.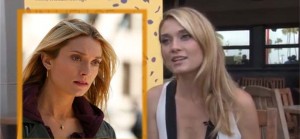 Though despite the fact that she had managed to grab Hollywood's attention by this time, it wasn't until the talented blonde was cast in the role of sorority girl, Casey Cartwright, on Greek – one of the then-fledgling ABC Family Network's first forays into scripted television – in 2007, that America first began to pay attention. That's because while starring on the adult-minded but still kid-friendly show, Grammer consistently demonstrated some serious dramatic and comedic chops, helping the cult favorite not only run for four seasons, but also establish its up-and-coming network as a beacon for buzzy original youth-oriented programming (long before The Secret Life Of The American Teenager and Pretty Little Liars)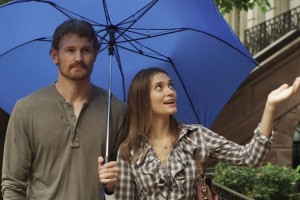 Thus, by the time the show ended in 2011, the actress had proven herself to be a dynamic leading lady who was more than ready for her close up. Armed with newly minted clout, Grammer snagged a starring role on NBC's high profile remake of Ironside with Blair Underwood this season; and though the show was just recently cancelled, her work in a slew of thoughtful indies should keep the young starlet 's name on the tip of many a casting director's tongue for quite some time.
In William Savage's surprisingly poignant In Lieu Of Flowers, Grammer turns in a fresh and fearlessly authentic performance as Rachel, a young woman battered by love, yet attempting to pick up the pieces with a like-minded friend (Josh Pence). Then there's 2 Br/1 Ba opposite another actress who knows a thing or two about scrutiny at a young age, Spy Kids' Alexa Vega. The movie, from director Rob Morgolies, arrives in theaters in 2014, right around the same time as her east meets west film, Beyond Paradise from Middle Eastern-born, New York- based director J.J. Alani.
Needless to say, next year is shaping up to be the biggest one yet for Spencer Grammer… But if her unmistakable talent and undeniable ascent weren't enough to convince you that Hollywood has a new acting dynasty on its hands, younger sister, Greer  – another memorable blonde Grammer with big talent and even bigger dreams – is happily waiting in the wings.
CLICK HERE for NBC's official "Ironside" webpage.