The film we like to bring to your attention this week is a history-based drama, titled Frantz, by François Ozon (Under the Sand, 8 Women, Swimming Pool).
Set in Germany and France in the immediate aftermath of the First World War, (1914-1918), Frantz takes place in the tense and sad recovery phase after both sides lost loved ones in war while they pick up the pieces to normalize what is left of their existence.
Frantz follows the semi-stagnant life of a French widow, Anna (actress Paula Beer) as she notices a stranger visiting the grave of the man she was going to marry if the war had not taken him from her. As she tries to make contact with the foreigner, she realizes that her in-laws have met him in person. Soon, a tense relationship evolves between the young man, Adrien (actor Pierre Niney) and the dead soldier's parents and the widow he left behind. As this uncommon company grow accustom to each other, stories are revealed and secrets are exposed, and the film takes the viewer down a different path.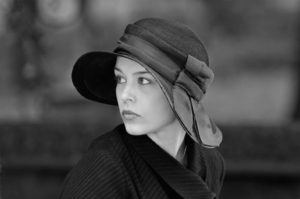 Don't be alarmed! It is not something completely crazy, like a key character waking up from a dream and realizing she is inside a spaceship. It is that side-street shift in the story we often do not mind in foreign films. The main players remain intact, involved and invested in eachother's truths. In fact, we get a better look into the souls and the surroundings of them and as a result become more engaged as they take their next steps.
As subtext, the homoerotic tensions keep the viewer wondering and questioning the actions of Adrien as the real truth unfolds.
With a good dose of mystery and the brilliantly cast faces one wants to follow, Frantz becomes a unique, slightly odd yet engaging drama. The cast of this film feel intimate and in tune with each other like a company of a stage production.  Maybe it is because the film is an adaptation of a play by Maurice Rostand, with that small-theater closeness between the audience and its performers.
It deals with grim subjects, perhaps old and unfamiliar to today's multiplex attending audience yet successful in creating a hook, helping us connect and care about its characters and what happens to them. It extends an invitation to viewers to take the journey with an open mind and open hearts, and it does so without preaching or demanding it. It happens organically.
The topics of Nationalism, animosity for foreigners, some who are members of your neighboring country, and brash, broad reactions are reflective of today's Trump era America.
Frantz is a risk-taker of a film for its exploration of morality and how far one might push that line. If there is a disconnect between the film and its audience (due to the period of the story), it is perhaps because it might feel ancient to today's viewers. But Ozon's film can act as a catalyst for revisiting the time in history and opening new discussions about it.
Frantz is powerfully erotic, meditative, and a moving piece of cinema. It's beautifully shot in its black and white core. And at times when some scenes transition into champagne and cinnamon-like colors, the film will warm the heart in a hypnotic manner, as the dashes of color achieve their respective effect.
The filmmaker's personal views must be noted as he explores humanity, grief, life in the time of war, and the recovery period that follows. Films are always a window into its makers' souls and in this case, just as reflective.
Frantz explores the nursing of broken, sad hearts and refurbishing them might require a few wrong turns or bended truths. Do we call those "alternative facts" nowadays?
The film could have used a few more drops of humor. The viewer could have benefited from comedic breathers like it, but that's a call this filmmaker didn't feel was needed. It is his film after all.
See Frantz in Los Angeles, at Nuart  — See the film's trailer plus a mention of awards and accolades below.
[videos file="https://www.youtube.com/watch?v=oop8_CgSgmo" width="560″ height="315″][/videos]
Winner – Best Cinematography (Pascal Marti), 42nd César Awards
Winner – Marcello Mastroianni Award for Best Young Actress (Paula Beer), 2016 Venice Film Festival
Winner – Grand Jury Prize for Best Performance International Narrative (Paula Beer) & Best International Feature, 2017 Gasparilla International Film Festival
Official Selection – 2017 Film Society of Lincoln Center's Rendez-Vous with French Cinema
Spotlight Selection – 2017 Sundance Film Festival
Official Selection – 2016 Telluride Film Festival
Official Selection – 2016 Toronto International Film Festival