Here comes the first look at SPECTRE, the next chapter in the James Bond action, thriller movies, starring Daniel Craig, Christoph Waltz, Monica Bellucci, and Ralph Fiennes.
In this V-log from the breathtaking Austrian mountains, actors Léa Seydoux, Dave Bautista share their excitement about the surreal setting for the shoot as Production designer Dennis Gassner discusses the wide search he went through to nail the unique modern spot featured in the film. It is in these mountainous roads where some of the film's major action sequence will be shot. Gassner explains that the goal is to top SKYFALL, the last film from the franchise, which like this one was also directed by Sam Mendes.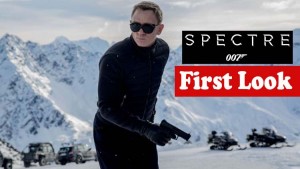 In SPECTRE, after receiving a cryptic message, 007 sets out to uncover a sinister organization. This time M has her hands full as she battles political forces to keep the secret service agency up and running.
Will Bond expose the terrible truth behind SPECTRE? We have to wait and see when the film releases on U.S. screens, on November 6, 2015.