Here are the first set of photos released by 20th Century Fox, giving us a glimpse at Leonardo DiCaprio as a 19th century American fur trapper in The Revenant.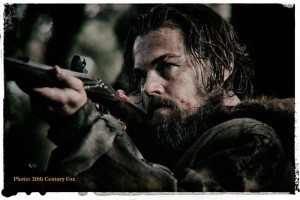 Deep in the uncharted American wilderness, trapper Hugh Glass (Leonardo DiCaprio) is severely injured and left for dead by a traitorous member of his team, John Fitzgerald (Tom Hardy).  With sheer will as his only weapon, Glass must navigate a hostile environment, a brutal winter, and warring Native American tribes in relentless quest to survive and exact vengeance on Fitzgerald.
Based on a true story (book penned by Michael Punke), The Revenant, seems to be another ambitious film directed and co-written by Alejandro González Iñárritu ("Birdman," "Babel"), this one in the western, adventure genre.  The filmmaker and his crew are shooting the film using only natural, available light.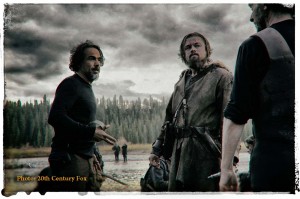 Other cast members in this revenge-drama include Domhnall Gleeson (Unbroken), Will Poulter (The Maze Runner), and Lukas Haas ("Transcendence").
The Revenant will be in limited theatrical release starting December 25th, 2015; and expand across the U.S. on January 8th, 2016.