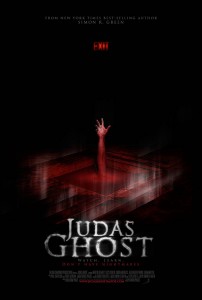 Narration: "Ghosts are everywhere!"
Cut to: shot of a business-casual young man, splashing around in a pool of.., wait, is that blood? We're in!
And that's how it opens. With Judas Ghost the thrill-ride starts from the get go.
Based on the "Ghost Finders" books, by New York Times' best-selling author, Simon R. Green, this little indie horror, from the U.K., packs a big punch in the scary corner.
An elite team put together by The Carnacki Institute who normally deal with ghosts, haunting, and the supernatural find themselves in a much bigger ordeal when assigned to what seems to be a standard assignment during which they can produce a "how to" video as well. Everything elevates to very dangerous levels as soon as the team of crackerjacks gets to work.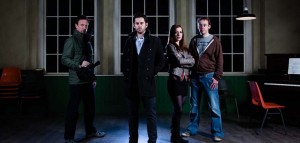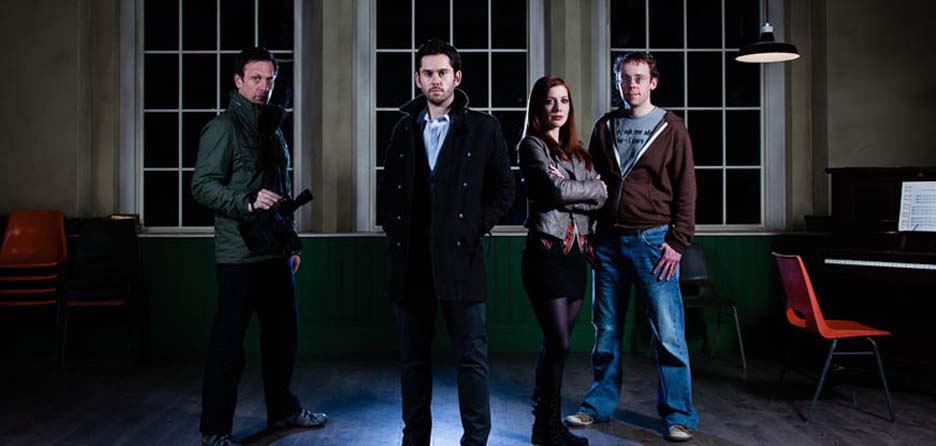 This edgy indie flick brings more than enough blood, special effects, and graphics, crafty camerawork, and suspense to satisfy film fans of multiple genres. Using scare-tactics that are understated, the reveals remain shocking while the film keeps a stylish approach, and not an over-the-top attack on the senses that normally fizzles out after fifteen minutes.
Director Simon Pearce, seems to have taken a somewhat musical path in storytelling. Let's call it a cinematic rhapsody.
The cast: Martin Delaney, Lucy Cudden, Simon Merrells, and Alexander Perkins rise to the occasion in conveying that geeky-cool world of such adventurers, and the trouble it brings.
There is a devilish charm to Martin Delaney (as Jerry). With a comedic nod, Delaney showcases that hammy side of on-camera TV personalities, the one most of them are surprisingly unaware of. Then, switching to his game-face, as expert ghost hunter, problem solver, the actor makes Jerry brave, yet playful and fun to watch.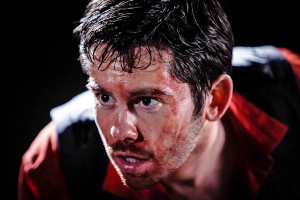 The beautiful Lucy Cudden (as Anna) is effective and rightfully dramatic in communicating that "girl next door" persona with a dark past. Anna seems to have a tortured soul which makes her a woman strong enough for the job, and gentleness for men to notice and want to protect.
Alexander Perkins' character, Ian, is the tech savvy geek who is the weakest link in bravery. The boy just doesn't have the heart to fight the demons, and as an actor, Perkins brings the goods, and elevates the terror.
Mark, the shady bad-ass with a unique set of expertise is played by actor Simon Merells (currently starring on CW's "The Tomorrow People"). In JG, Merells is the unpredictable, under-the-radar team member, and that's all you need to know until you get to watch his performance on screen.
The use of hand held, man-addressing-camera shots, done many times in various films, feels new again. The technique is appealing in this film. When the quality of audio switches accordingly, from crisp, clear recording to slightly ambient-quality, captured by a prosumer video-mic, the viewer benefits from a closer sense of participation, an attachment to the ghost hunting crew.
The Bible-belt America will love this movie too, because of its spiritual appeal and religious references.
That ghost however, could have used either less screen-time or serve a better purpose other than stand there, and burst into cliché evil laughter. Half the time, this ghost seemed like he was just hangin' out. The viewer will quickly forgive this lazy ghost while evil leaks out of every corner of the room.
In short, it is impossible to not get hooked during the first 3 minutes of this film. Judas Ghost is clever, with its single-location element, a likable cast of characters we can cling to, raised stakes, and the presence of a new unknown enemy. What's not bait, here?
No one is safe in the presence of Judas Ghost. It's a stylish, non-stop shocker of a ride, and lots of fun. See it!
CLICK HERE for the film's trailer.