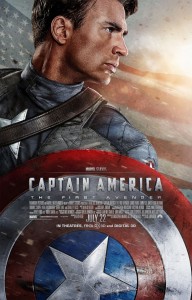 CAPTAIN AMERICA: THE FIRST AVENGER is a deliriously retro-retro-movie in the same spirit of the 1940s Saturday serials matinees which inspired the likes of Spielberg's RAIDERS OF THE LOST ARK (1981) and THE MUMMY (1999). That should be no surprise to people familiar with the work of director Joe Johnston, a long time Spielberg/Lucas collaborator who directed an early retro-hero movie, the underestimated THE ROCKETEER (1991).
Like THE ROCKETEER, CAPTAIN AMERICA is set in WW2 America. Chris Evans, who usually plays bland jocks, gets a wonderful special effects triumph as a skinny, 90 lb weakling named Steve Rogers, who repeatedly tries to enlist in the beginning of the movie. When he's discovered by a US Army scientist (Stanley Tucci), it's a crucial summation of the spirit of Captain America. "Do you want to kill Nazis?" Tucci asks. "No, I don't like bullies," Roger replies. Tucci tells Rogers just before he undergoes a mega-steroid treatment that he was chosen because he is a good man.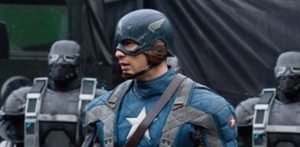 There's a old fashioned corniness to CAPTAIN AMERICA because Steve Rogers is so squeakily clean-cut, but faster than you can say Clark Kent, the movie shifts into full action mode as Captain America battles the evil Red Skull (Hugo Weaving), Hitler's lead scientist who is developing something akin to atomic weapons to knock out every major US city.
Overall, a strong cast, an old-fashion cliff-hanger script with humor and brio, and the irresistible combination of Nazis and secret weapons make CAPTAIN AMERICA a must see for the summer.