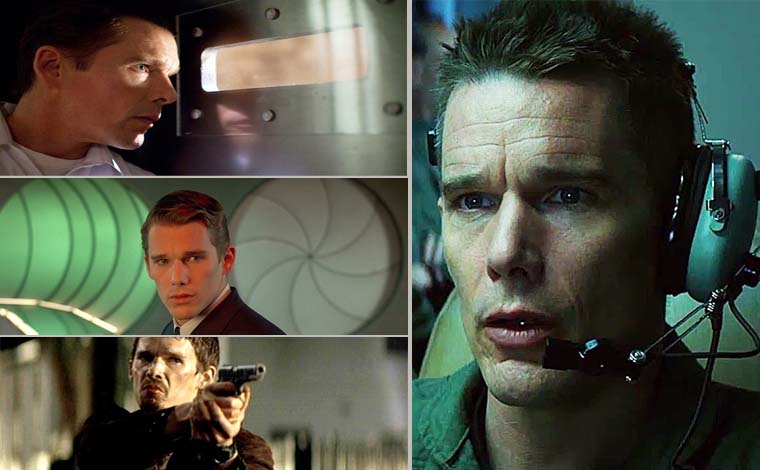 Since then, he's routinely returned to the stage in productions as varied as Hurlyburly, The Coast Of Utopia, and Macbeth, yet still remained a force onscreen, working with undisputed auteurs (Linklater again for 2006's Fast Food Nation, Sydney Lumet for 2007's Before the Devil Knows Your Dead) emerging directors (Brian Goodman's What Doesn't Kill You, The Spierig Brothers' Daybreakers, James DeMonaco's The Purge) and even helming a film himself (2006's The Hottest State).
And now, as he stands poised to win perhaps his first Academy Award for his unforgettable performance in Boyhood, you can be sure that Mr. Hawke will continue to do exactly what it is that he does best… shake things up. First up, is his buzzy reteaming with The Spierig Brothers, Predestination, which was just nominated for Best Film at Australia's AACTA Awards. After that, he can be seen in the gritty indie thriller, Anarchy, opposite Ed Harris.
Fans of Hawke's modern sci-fi classic (1997's Gattaca) will be happy to know that the actor has reteamed with director, Andrew Niccol for the upcoming, Good Kill, but lest you worry that he's gone all action, the actor can also be seen playing Chet Baker in Robert Budreau's Born to be Blue, another cool dad in Shari Springer Berman's Ten Thousand Saints and a vengeful cowboy in Ti West's In a Valley Of Violence. Not enough for ya? Catch him starring opposite Emma Watson in Alejandro Amenábar's Regression, Paul Giamatti in Noah Buschel's The Phenom, and fellow- Oscar nominee, Julianne Moore in Rebecca Miller's latest, Maggie's Plan.
Needless to say, we have a feeling that no matter what the outcome is on February 22nd, Ethan Hawke will be just fine. Take that James Franco.