To watch Ethan Hawke deliver what is perhaps his most fully-realized onscreen performance to date, in Richard Linklater's Oscar Nominated frontrunner, Boyhood, you can't help but be taken in by the actor's innate likeability and effortless charm. But to step back for a moment and examine Hawke's 25+ year career in Hollywood, from precociously talented youth (Dead Poets Society, White Fang) to Gen-X king (Reality Bites, Before Sunrise) to his current, enviable position as both edgy character actor and busy leading man, one thing becomes undeniably clear:
Ethan Hawke is more than simply one of the best actors of his generation; he's a badass.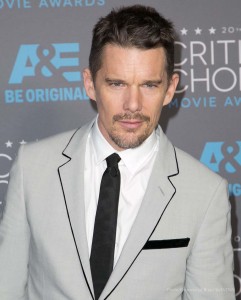 Sure, there are plenty of talented actors out there… leading men who, despite gritty breakthroughs, usually end up playing it safe in tone deaf action flicks, or worse, cozying up to a cape for some ridiculously high-paying franchise filmmaking. But not Ethan Hawke. Instead, the actor has managed to steer his career entirely on his own terms, picking projects that in addition to sharpening his skills as an actor/writer/art-maker have also helped him defy typecasting.
When 1991's White Fang instantly made him a star to the G-rated set, he pulled an about-face, taking on the role of a Uruguayan Rugby player forced into cannibalism in Frank Marshall's Alive. When 1994's Reality Bites made him a slacker heartthrob for the ages, Hawke then teamed up for the first time with Linklater to create what has now become one of the most indelible portraits of modern romance in the 1995 classic Before Sunrise (the pair would later reteam, along with actress, Julie Delpy, for two more installments to the series, 2004's Before Sunset, and 2014's Before Midnight, both of which earned the trio Oscar nominations for Best Adapted Screenplay).
And just when it looked like the actor had become the pre-millennial go-to guy for modern cinematic takes on the classics (Great Expectations, Hamlet), Hawke surprised everyone, and earned his first Academy Award Nomination for Best Supporting Actor, as a rookie cop opposite Denzel Washington in Antoine Fuqua's gritty cautionary tale, Training Day.
(continued next page)