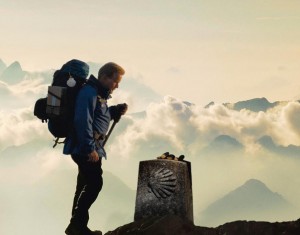 By: Henrick Vartanian —
Filmmaker Emilio Estevez ("Bobby") has created a movie about American spirituality in "The Way". He reluctantly traveled to Spain after his father Martin Sheen kept insisting on it. The goal: to make the movie about faith, hope and walking – all part of the American way of overcoming hard times. Estevez admits: "I didn't want to do it. I didn't see myself doing the film, because I have never made a documentary type film." Thinking he must shoot it in a documentary form. But Martin Sheen kept asking his son to reconsider making the film about the Camino. Estevez began reading books like Jack Hitt's "Off the Road: A Modern-Day Walk Down the Pilgrim's Route Into Spain" to shape the script. The movie focuses on four people walking the Camino de Santiago (the Way of St James).
"The Camino serves as the ultimate metaphor for life, and I think Americans right now are searching for something in their lives and spirituality." Estevez was heard saying at the Toronto International Film Festival, just this month, where the film premiered.
In the film, Martin Sheen plays a 70-year-old American doctor who travels to Spain to claim the body of his son, who had died on the pilgrimage. He decides to complete the walk his son had started and along the way meets a other international pilgrims: an Irishman angry with the Church, a Canadian woman in search of redemption and a lost Dutchman.
Focusing on the walking as the theme of the movie proved to be an interesting challenge. "Isn't it our first instinct?…When we're babies it's the only thing we want to do – to get on our two feet and move forward."
The director realized that getting the walking to look right was difficult, especially his dad's. Sheen walked too fast or too confidently. "I said, 'Look, you're fit. You look great. You're playing a guy who is 70. You are 70, almost. So maybe you could slow the pace down a little bit." Explained Estevez.
Follow update and the release date for "The Way" here:
http://www.theway-themovie.com/#