Ginger and Rosa, from the eclectic British writer/director Sally Potter, tells the tale of two young girls whose inseparable friendship is changed forever as they experience the tumultuous upheaval of early 1960's London. Starring luminous wonder kid Elle Fanning and confident newcomer Alice Englert in the title roles, the film and its leads are already receiving rave reviews throughout the Festival Circuit. It seems as if both young actresses are poised to have dynamic, long lasting careers similar to those of their famous kin.
Angelic, flaxen-haired, scene-stealer, Elle Fanning is easily the more recognizable of the two. Initially standing in the shadow of her precociously talented older sister, Dakota, Elle has proven herself to be not only an actress of delicate grace but also a leading fashion plate by the ripe old age of 14. Since making her film debut as a toddler, playing a younger version of her sister in I Am Sam, her stardom has increased proportionally to her talent.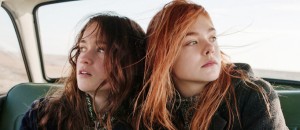 Though acting practically since the womb, it was Fanning's role in the indie, Phoebe in Wonderland that really made Hollywood sit up and take notice. Following once again in the footsteps of her acting prodigy sister, she eschewed the usual Spy Kids and Disney Franchises, and at 8 years old, instead tackled an emotionally complex character with issues that were eons away from her apple-cheeked, SoCal life. This film also gave audiences their first glimpse of Fanning's eerily wise-beyond-its-years countenance that has since metamorphosized into a gorgeously serene stoicism.
It was Sofia Coppola's underrated 2010 road trip pic/dreamlike homage to foreign art house cinema, Somewhere, that turned me on to the talents of this young actress. Holding the camera's focus the way Kirsten Dunst and Scarlett Johansson had before her, yet with a naiveté and sweetness that neither possessed, she proved to be the perfect foil for Stephen Dorff's jaded actor. Yet more importantly, Ms. Copolla's girlishly poetic mind found its greatest realization in the young girl, a crucible of accessibility in what could have been an extremely esoteric mood piece.
Through films like 2011's Super 8 and We Bought a Zoo, with A-list directors including J.J. Abrams and Cameron Crowe respectively, she also managed to tap into the pulse of a generation a la a young Drew Barrymore, capturing the minds and affection of young girls, while at the same time, the hearts of lovesick boys, with her approachable wide-eyed beauty. Look out Jennifer Lawrence, because in addition to Ginger and Rosa, Ms. Fanning also has the much buzzed about Maleficent film she made with Angelina Jolie for Disney, and Young Ones, from director Jake Paltrow (Gwenny's bro) with Michael Shannon and Nicholas Hoult, coming out in the near future.
Alice Englert isn't quite as famous, but as the daughter of Kiwi born, Australian art house queen, Jane Campion, she carries on quite a filmmaking legacy of her own. The young actress inherited her mother's restless indie spirit and it took some convincing to get her to sign onto the big-budget Twilight-ian potential franchise pic, Beautiful Creatures, her biggest role to date. Unfortunately, the film was not a runaway success, but the young star more than held her own opposite equally buzzy and talented Alden Ehrenreich. Surprisingly, Ginger and Rosa was Ms. Englert's first full length feature film, but now having completed the aforementioned YA adaptation, the indie horror pic, In Fear, and Roland Joffe's upcoming time-spanning epic, The Singularity, this free spirit's come a long way from starring in her mother's experimental shorts. With a piercing gaze and intelligent beauty that suggests the wild romanticism of the best Austen and Bronte heroines, Englert is poised to give fellow Aussie, Mia Wasikowska, a run for her money, if she chooses to.
CLICK HERE for the official movie trailer.