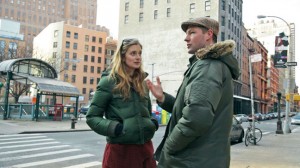 Filmmaker Ed Burns is back in micro-budget indie territory—and he couldn't be happier. The budget for his film "Newlyweds" amounts to less than the loose change in Steven Spielberg's rumpus room couch.
Don't miss the Live stream Q&A with Ed Burns, Jan 3, 8:00 PM, CLICK HERE.
The prolific acclaimed multi-hyphenate is harnessing the power of social networking to spread the word about his film and boldly proclaims sites like Twitter and YouTube have upended the entire process of making movies.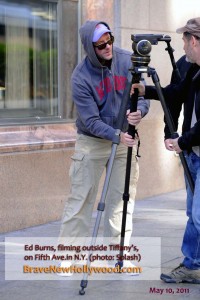 He first debuted on the scene 16 years ago with "Brothers McMullen," a $28,000-budgeted Sundance Film Festival darling that skyrocketed his career and went on to earn more than $10 million at the box office.
"When I was in school making 'McMullen,' I had to scrimp and save to buy film stock," he tells Mashable.com. "You usually got poor-quality film stock or ends of other reels. That's why movies from that era have that grimy, grungy look. A kid coming out of film school today won't have that problem."
Burns relied heavily on his Twitter followers not only to help spread the word about "Newlyweds," he also invited them to participate in various levels of production. "Twitter has fundamentally changed the way I make films," he says.
For example, fans were invited to create and vote for their favorite "Newlyweds" promotional poster. "The winner not only got to keep the rights to his artwork," notes Mashable, "he also got flown in for the premiere."
Burns also invited Twitter followers to submit and vote for a song to play over the end credits.
"Newlyweds" is a relationship drama about a young couple in New York whose ideas about marriage, commitment and honesty are sorely tested by the arrival of the husband's free-spirited sister.
The film was shot in just 12 days with a Canon EOS 5D Mark II camera on a budget of $9000. The how-to process is laid out in detail on Burns' YouTube channel. "We shoot with a three-man crew," he explains. "We use almost all available lighting… The actors all wear their own clothes. We have no hair and makeup; you do your own. We beg and borrow for every location."

"It's just a matter of using your relationships. People love movies and want to be a part of movies. A lot of times you can get favors done if you are willing to include people in the process."
"Newlyweds" is available now on Vudu and debuted on iTunes last week. A small theatrical release is planned for Chicago and San Francisco soon.
CLICK HERE for Burns' YouTube channel.
CLICK HERE for the official "Newlyweds" site.