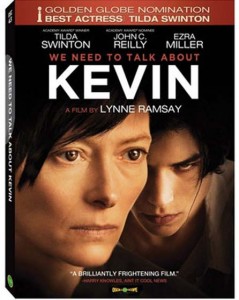 A searing indie film that is now available on DVD and on demand, WE NEED TO TALK ABOUT KEVIN is a haunting drama that explores the psychology of a number of intersecting issues: post-partum depression, maternal bonding, and how and why those factors might contribute to tragedy.
Directed by acclaimed Scottish director Lynne Ramsay (RATCATCHER, MOVERN CALLAR), WE NEED TO TALK ABOUT KEVIN was the toast of last year's film festival circuit, with BAFTA Award nominations, a British Independent Film Award for Ramsay for Best Director, a Palme d'OR nomination, as well as a Golden Globe nom for Best Actress.
Starring Tilda Swinton and John C. Reilly as a happy couple who raise a difficult son, the film is told from the mother's point of view as the film alternates between increasingly tragic flashbacks as the audience is brought up to date watching the couple's son grow up to be a seriously unhappy teenager. Is the son unhappy or unloved? Is Swinton's mom just a little too aloof? The film doesn't offer any easy answers.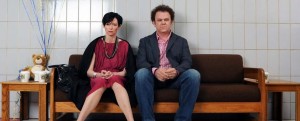 The titular character, Kevin, is played by Ezra Miller who could be the next big thing – or the next Crispin Glover, if he's continually cast because of his quirky Depp-like looks. (Miller was in the well-received comedy CITY ISLAND with Andy Garcia back in 2009).
We're often told about great chemistry between actors which can make or break a film, and it's the open hostility between Swinton and Miller which makes this film unforgettable. A must see.
CLICK HERE for the movie trailer