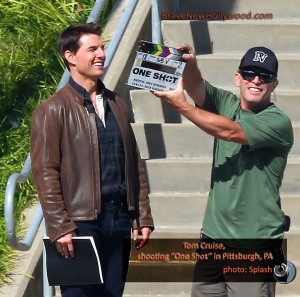 Tom Cruise and Paramount Pictures are feeling the wrath of book fans as production continues on "One Shot," a film adaptation of the popular novel by Lee Child. Cruise plays the title role of Jack Reacher and he is very, very different from how the character is portrayed on the page.
Fans have complained that the 5'7 Cruise is entirely inappropriate to play the hulking, physically imposing Reacher, who measures at 6'5 and 250 pounds with sandy blond hair.
"This news might send you into a bit of a fit," jokes IndieWire. "We suppose Cruise could pull it off if he underwent a helluva transformation and gave up any ideas of having finely tousled hair, but if it's not done right, it might just wind up playing [as] sub-Bourne material."
"It should be noted these books are pulpy to begin with—though undeniably compelling reads—and will need a careful handle on the tone to prevent them from being just plain absurd or over-the-top," says IndieWire.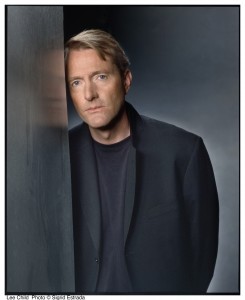 "This frankly seems like a role better suited to someone like Thomas Jane ("Hung" on HBO), but obviously, he doesn't have the same box office pull or fame as Cruise."
Filmmakers and movie stars walk a tricky tightrope when they choose to adapt a popular work of fiction with a famously dedicated fan base. Stray too far from the elements that fans adore and you risk sinking the film before it ever reaches theatres.
Child told the BBC he was "thrilled" that Cruise was chosen for the role. "It's completely impossible to literally transfer the page to the screen," he said. "Ironically, to capture te feel of a book on the screen, you have to change almost everything about it."
He notes "there aren't any such actors" who could headline a megabudget action-drama who also closely resemble the Reacher character. "It's much a question of which actor has the talent and screen presence to create what Reacher does on the screen," Child notes, "and that really comes down to finding the actor with the most talent."
"One Shot" is being directed and was co-written by Christopher McQuarrie, best known for his Oscar-winning script for "The Usual Suspects." His co-writer is Josh Olsen, who earned an Academy Award nomination for his adaptation of the graphic novel "A History of Violence."

Joining Cruise on location in Pittsburgh are Jai Courtney, Robert Duvall, Richard Jenkins, David Oyelowo, Michael Raymond-James, Rosamund Pike and iconic director Werner Herzog, in a rare acting gig as the villainous Zec.
"One Shot" is currently scheduled for release on February 8, 2013. Check your local listings.
CLICK HERE for the BBC story from last summer.
For author LEE CHILD's official website, CLICK HERE.