Watch the BNH INTERVIEW with CHRISTIAN TV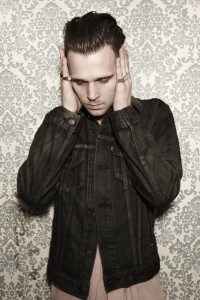 Watch out Gaga. Step aside Bieber!
The pop galaxy has a fast rising star: Christian TV (aka Christian Berishaj), the not-so-saintly fire starter of new music, despite his clever artistic name.
He is straight out of Detroit, along with fist-pumping beats, intriguing titles like "When She Turns 18," and sexy videos; a complete package that delivers the tunes on his terms (at least so far), and is not afraid to raise a few eyebrows in the meantime. His musical influences come from a wide range, like Radiohead, and especially Prince.
At age 12, with ProTools in his possession, Christian mastered more than just the audio program, and soon began to put out original songs, breaking out with his first band Love Arcade, and a self-made hit song "1,2,3, Turn Around" that ended up licensed more than 200 times by different TV shows such as "Jersey Shores," and "True Life."
Reborn, artistically, as Christian TV, this producer-vocalist is being called "a pop-provocateur." He has even received a Twitter mention by pop princess Britney Spears. Christian has already worked with Deftones, Tyga, and CW's Leighton Meester ("Gossip Girl," "Country Strong").
While putting the final touches on his debut album 'Diary of an 80's Baby,' (on Universal Motown) the first single "Love2Baby" accompanied with it's newly released music video are the on-fire hot, deliciously naughty promise of great things to come.
While in L.A. for a quick live promo performance, at the famous Troubadour, Brave New Hollywood caught up with Christian TV for a quick chat. Watch Video HERE, (or) Click on VIDEOS under Christian TV.
CHRISTIAN TV official website: http://www.thisischristiantv.com/
CHRISTIAN TV on Facebook: http://www.facebook.com/thisischristiantv