Chris Hemsworth, The 27-year-old "Thor" star, married his 34-year-old actress girlfriend Elsa Pataky ("Snakes on a Plane") over the Christmas holiday in his native Australia. The actor's spokesperson has confirmed the pair have married, but refused to give out any further details.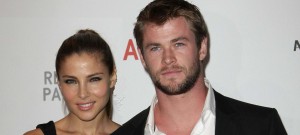 The two lovebirds started dating earlier in 2010, and finally went public about their romance three months ago. The couple met last year after Chris' representative hired Elsa, and from that first glance, it was love, it seems. The man made all the right moves and traveled to Spain to meet Elsa's parents before the couple married in Australia.
Chris's younger brother Liam Hemsworth is also famous for dating Miley Cyrus and starring with her since they first met on the set of their movie 'The Last Song.' The two were on again and off again, until they called it quits in November of last year.
THOR swings his hammer on theatre screens May 6, 2011
– H. Vartanian
official THOR movie site: http://thor.marvel.com/