You know how you never expect lightning? (In So-Cal, it leads the news when it happens.) Yet even when it's predicted, it's a surprise: a blazing gift from Nature that takes over the sky, coming from everywhere at once.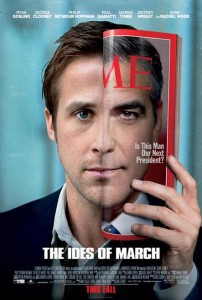 Kind of like the way Ryan Gosling is taking over Hollywood these days.
The details don't lie. Three of this year's most visible films ("Crazy, Stupid, Love", "Drive", "The Ides of March") carry his name in the headline credits.
Last year, he added "producer" to his resume, guiding the exquisite "Blue Valentine"  to 16 award nominations. (Oh yeah; did we mention a few were for him as leading actor,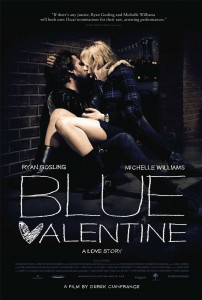 including a Golden Globe, and that he also wrote a couple of songs for the soundtrack?) Before that, there's the list of projects that reads like a page from every critic's "Must-Watch" list. "Murder by Numbers". "Half Nelson". "The Notebook". "Stay". "Lars and the Real Girl". "All Good Things".  He'd be right on track to be dubbed the new Thinking-Woman's fantasy god, but there's the issue of the body that, when unveiled to Emma Stone in "Crazy Stupid Love", had her character shrieking: "Seriously? It's like you're Photo Shopped."
Which begs the question: what's the magic bowling ball that knocks Gosling's pins over? For all the thrall he casts over us, what gives the man his own motivation…, and what factors drive the decisions that have created one of the most diverse film portfolios—and their centerpiece star—since Ed Norton?
First, Gosling's already been weaned off the siren's call of "the marketing machine". Pitch him a movie based on its Burger King collector cup potential, and you'll likely see him heading for the pines of his native Ontario. Not that you'll blame him. He began his career in the bed of the biggest marketing monster truck out there, as a Disney Mousketeer, at the age of 13. After that, the Tiger Beat demographic got their hands on him, through stints on teen-friendly TV shows like "Breaker High", about a high school on a cruise ship, and "Young Hercules" (A-ha! Training wheels for those abs!). Checking off that box early explains why Gosling's careful project picks have steered clear of anything resembling a superhero suit.
Number two: the guy likes drowning. Clarification: his immersion in roles is enough to make Stanislavski rise from the dead just to weep with pride. For his breakout role as Noah in "The Notebook", he took up carpentry, and even made a table that was used in the film. For his Oscar-nominated role in "Half Nelson", he shadowed a Brooklyn high school teacher for six months. His process even provided the platform that propelled him to the starring slot in "Drive": a gritty, stylized picture about a getaway car driver who envisions himself the knight-errant for his damsel-in-distress, Carey Mulligan. "Nicolas and I had a bad first meeting and we weren't going to make this movie together," Gosling said (referencing his director, Nicolas Winding Refn) to movies.com, "but then REO Speedwagoncame on the radio and if it hadn't, we wouldn't have made the film. And that sounds funny, but it's true. Something happened when REO Speedwagon came on the radio; we creatively copulated, and a movie-baby was born."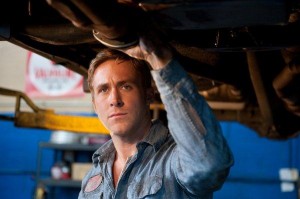 As long as music's in the equation: a little "Sympathy for the Devil", anyone? Nothing like a little kick-ass classic rock to embody the single trait that's made Gosling truly stand out from his generation: the humanity he imbues into characters that, on paper, should be as single-note as—well—a Disney villain. A drug-addicted teacher. A career-obsessed attorney. A high school drop-out husband. A latent psychopath. Even a guy in love with a blow-up doll. The man is acting's answer to Gregory Maguire: a person with the guts to not only question society's rights and wrongs, but completely flip them over and redefine their truths. As Entertainment Weekly phrases it in their assessment of "Ides of March": "Ryan Gosling, showing that he can flirt with sleaze, and even fall into it, and still make you like him in the role of a shrewdly opportunistic press secretary…" The sentiment is echoed by this week's LA Times , in an article written about Gosling and contemporary Jessica Chastain: "…the roles they seem to gravitate toward are found in the testing of character, uncovering the dignity within the most flawed of humans. With Gosling, it's as if he is forever fighting his way out of a paper bag, letting us witness his often aching vulnerability."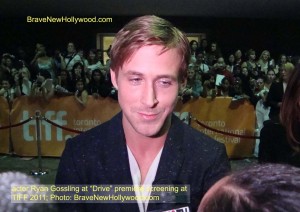 So where's the lightning bolt headed for next? In Gosling's case, that's always an exciting answer. "Ides of March" (release date October 7), with George Clooney at its helm, is already on many Early-Oscar-Watch lists. Gosling went bleach-blond for his role as a stunt cyclist turned bank robber (he feels the need…the need for—oh, let's not go there) in "The Place Beyond the Pines", which just wrapped filming in LA and in Schenectady, New York. The film reunites him with his "Blue Valentine" director, Derek Cianfance, as well as Bradley Cooper and Rose Byrne. Ryan is on set now with his "Crazy, Stupid, Love" leading lady, Emma Stone, in the 40's-era drama, "The Gangster Squad". (These two—together again—in vintage costumes? Can we squee now or later?)
Ryan Gosling: bottle him up? We return that question with one of our own: why?