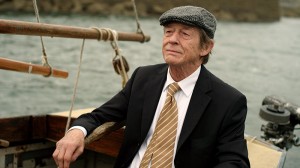 Here at BNH we'd like to tell you about Sailcloth a very special DVD that has been travelling around the office. And with all the distractions in our fast-paced days, the reactions to this film (at least in our little media empire), have been interesting self-evaluations,  with an acknowledged appreciation for life itself. The other day, someone called it a "therapeutic" movie. Hmmm!
Sailcloth a short film, written and directed by Elfar Adalsteins, sets to sea when an elderly widower (played by the legendary John Hurt) makes his clever escape from a nursing home, to carry out his own plans, for that last journey, to the other side. Now with an Oscar buzz surrounding the film, hopefully many film lovers can get the chance to see it too. As for the idea for the film, Adalsteins' grandfather who spent the last years of his life in a home where he died inspired this peaceful look into the human spirit, and dignity.
Considering the personal and emotional roots of this story, the filmmaker makes his bond with the viewer universally, by addressing very human concerns: aging, loneliness, and mortality. From his choice in casting, and locations, until the final shot, this film makes a lasting impression even after the screen goes dark.
Read more Brave New Hollywood film reviews here. 
The high wind lifting "Sailcloth" is made of John Hurt's amazing acting, in this silent role, combined with beautiful photography by Karl Oskarsson, and a touching score by Richard Cottle.
So much is, shall we say, sailing on the abilities of its actor, it is almost impossible to see anyone other than Hurt in this role. There, in one moment actor, environment, and time achieve a sense of "oneness," giving the film its sense of calm without pulling attention to it.
As the film ends, we can't help but float into a "soul searching" state of mind, gathering our own thoughts. Film therapy? Why not?
"Sailcloth" is reflective, honest, and in ways therapeutic.