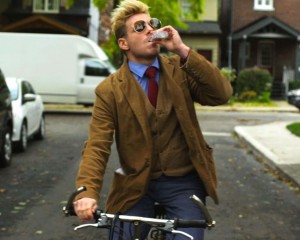 This month at the Toronto International Film Festival 2014, watch out for an underdog of a movie with no A-lister names, but blessed with a wicked, dark humor, and a leading man who hits the right notes with his sharp, witty portrayal of a washed up, child actor entering the real world.

Guidance stars Canadian filmmaker, actor, Pat Mills. As in, he also wrote and directed this feature length indie project.

Supporting Mills are cast members Zahra Bentham, Tracey Hoyt, Kevin Hanchard, Alex Ozerov, and Eleanor Zichy, in this dark comedy which follows a closeted, former child actor, David Gold (played by Mills) who is now an out-of-work alcoholic, faking a resume in order to get a job as a high school guidance counselor.

What does he do? OK, somewhat predictably, he starts giving terrible advice to already problematic students.

The pathologically immature David will hopefully earn sympathy points from the audience when they tap into his child-like thinking, or when they realize he has skin cancer, and has been fired from his last acting gig.

Shot on location in Ontario, the film has a snappy, sharp-tongued charm thanks to Mills writing and acting. It should carry the film through a couple of bumps, like one or two characters the viewers may not easily connect with, say the husband and wife faculty team. This doesn't mean that they hurt the film.

As David fakes a resume and gets the job, he soon realizes that his dysfunctional students actually like him. However, this connection is the beginning of a downward spiral where he shares a little too much, like vodka shots and smokes with the young troubled ones. As he meets Jabrielle, a teenaged outcast, just like him, David learns that in the company of teenagers, sometimes one can go too far.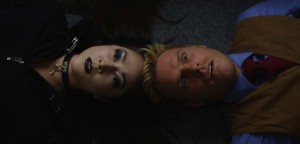 Intrigued? Good. Go see the film, and familiarize yourselves with new faces and emerging talent. It's what a film festival experience is about.

CLICK HERE to watch the TIFF 2014 trailer for GUIDANCE.
TRIVIA / More on Pat Mills: He started out in the industry as an actor in YOU CAN'T DO THAT ON TELEVISION (Nickelodeon). He received his training at Ryerson University (Toronto, Canada) where he was the recipient of the Norman Jewison Filmmaker Award and City TV's Best Film Award.

His short films have played at festivals all around the world, including TIFF.

An alumnus of TIFF's Talent lab, Pat was named winner of TIFF's Pitch This! for DON'T TALK TO IRENE, in development with Edyson Entertainment, which has received development support from Telefilm, Corus and the Harold Greenberg Fund.

Public screenings of Guidance at TIFF:

Sept. 05, 2014 – 6:30PM Scotiabank 3 (Scotiabank Theatre)
Sept. 06, 2014 – 4:30PM Scotiabank 8 (Scotiabank Theatre)