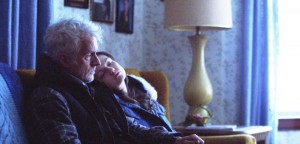 BLUEBIRD movie, the award winning debut from writer/director Lance Edmands, has launched a Kickstarter campaign to support an independent North American release.

The film stars John Slattery, Amy Morton, Louisa Krause, Emily Meade, Adam Driver, and Margo Martindale. 

About the Film: BLUEBIRD explores the interconnectedness of a small logging town in the northern reaches of Maine. When Lesley, the local school bus driver (TONY nominee Amy Morton) becomes distracted during her end-of-day inspection, she fails to notice a sleeping boy in the back of the bus. What happens next shatters the tranquility of the secluded industrial town, proving that even the slightest actions have enormous consequences. Stricken by an overwhelming sense of guilt, Lesley's fragility is further tested by her husband (John Slattery, MAD MEN), a local logger preoccupied by the imminent closing of the town paper mill, and the boy's mother Marla (Louisa Krause, KING KELLY), a disaffected young woman looking to take advantage of a delicate situation. Shot on location in the stark, frozen woods of Maine's Katahdin Region, BLUEBIRD fosters a profound sense of place, chillingly capturing the setting's lonely yet beautiful tone, thanks to the masterwork of cinematographer Jody Lee Lipes (MARTHA MARCY MAY MARLENE). The film boasts a powerful supporting cast including Emily Meade (BOADWALK EMPIRE), Emmy-winner Margo Martindale (JUSTIFIED), and Adam Driver (GIRLS).

BLUEBIRD premiered at the 2013 Tribeca Film Festival as the opening night film of the Narrative Competition. It had its international premiere at the Karlovy Vary International Film Festival in the Czech Republic where it won the award for Best Actress (shared by its female ensemble) and the Ecumenical Jury Prize. It went on to screen at many prestigious film festivals around the world including Busan (Korea), Stockholm, Thessaoloniki (Greece), Chicago, Maryland, and the Viennale. It had a successful theatrical run in Europe, won additional awards for acting at the Sidewalk Film Festival and the Ashland Film Festival, and was named one of the best undistributed films of 2013 by Variety.

CLICK HERE to see the film's trailer.

CLICK HERE for the film's Kickstarter campaign.