Welcome to the blandest of environments, a bare and totally depressing office space , where we meet Evan (Fran Kranz) and his cohorts, a mish-mosh of sales guys in their late twenties who spend most of their working day playing video games while unsuccessfully hawking male enhancement products.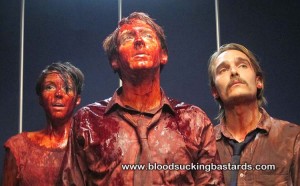 Our review of Bloodsucking Bastards, distributed by Scream Factory.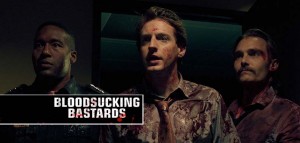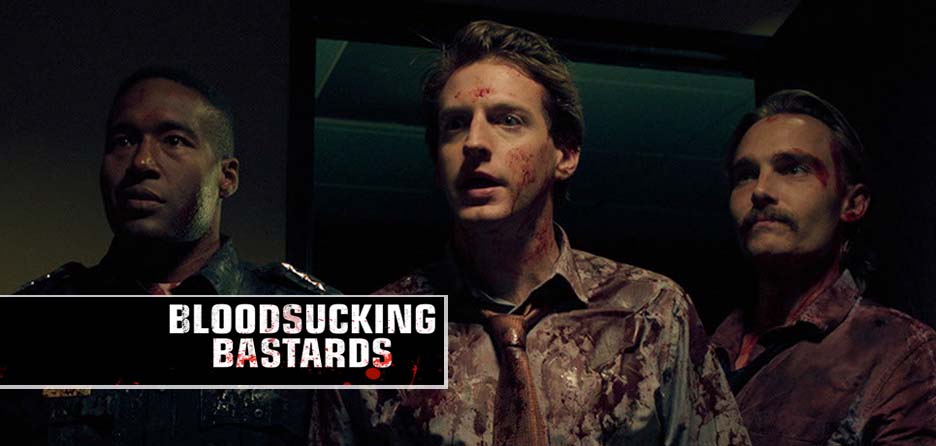 Evan is hard working guy with the dream of becoming sales manager, but he can't get his slacker colleagues to listen to anything he asks of them.  A past college rival, Max (Pedro Pascal) is hired instead. Max is a fast talking, ultimate sales type, who oozes sleazy and is unapologetically evil. Evan, has now not only has lost his job to Max, but it looks like he is also about to lose his ex girlfriend, Amanda (Emma Fitzpatrick), the kickass and beautiful HR executive, to Max's amorous advances.
Coincidentally, just as Max begins to slash jobs, the office crew seems to be disappearing and then reappearing into aggressive versions of their former self.   When Evan's best bud, the unflappable Tim (Joey Kern) reveals his theory that Max is a vampire, they embark on saving themselves, Amanda and the office from the raging vampire problem.
Between the strong cast and a hilarious script, this not-so-scary horror-comedy has the DIY makings of indie films. It finds its way to entertain, and keep you on the edge of your seat. The banter is refreshingly smart and reminiscent 1999's Office Space.  Anyone in sales or who has had the privilege of being in a thankless job will appreciate the many comparisons to vampire life.  The script was written by Ryan Mitts and Dr. God, a Los Angeles based comedy troupe, which also boasts many of their actors in the film.
Perhaps a bit choppy in places, this vampire tale is worth the time and attention of its audience while taking its time to get rolling. In the end, it manages to suck you in, with minimal blood and guts but plenty of laughs.
Bloodsucking Bastards opens today, September 4th, and is also available on demand.
CLICK HERE to watch the Trailer for the film.