Award-winning film director, Dana Nachman, has launched an Indiegogo campaign to finish the official Batkid documentary.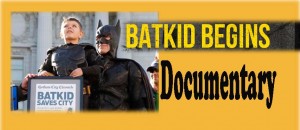 BATKID BEGINS, is the documentary film about 5-year-old Miles Scott, a leukemia survivor who asked the Make-A-Wish Foundation to be transformed into Batkid for a day. The campaign was launched over a week ago, and is now at the $53,000 mark of its $100K goal, and growing.
BATKID BEGINS goes behind the scenes chronicling the story of Miles, the 5-year old boy, in remission after spending half of his years fighting leukemia.
Last November, with the support of family, strangers, and the Make-A-Wish Foundation, Miles became Batkid for a day and was called upon to save Gotham City (aka: San Francisco in a most impressive transformation and show of support) from its impending doom.
What was anticipated to be an event with 200-300 in attendance quickly grew into a city-wide phenomenon that captured the spirits and imaginations of 25,000 people who lined the streets to cheer Batkid on. This magical event not only swept the nation, but resonated so widely that Batkid's heroics were seen by nearly 2 billion people across 117 countries.
So what is Dana Nachman doing to basically super-size this BATKID BEGINS film?
The filmmaker is lining up big-name musicians, animators, and visual effects professionals, all working at reduced rates in the name of Batkid, and bringing the post-production price tag to $100,000. With that fundraising goal, Nachman is turning to fans around the world to bring Batkid to the big screen.
"The story of Batkid is one of incredible generosity and positivity, where people said, 'Yes!' to each other for a day. If we can get people who were touched by Batkid behind our project, the spirit of the day will live on forever."
By supporting the crowdfunding campaign HERE igg.me/at/batkidbegins, fans can become a part of Batkid Begins. Nachman will be adding supporters' names in the credits of the film, offering private screenings, an invitation to join the crew in post-production, and the chance to join the whole team at the film's premiere.
CLICK HERE for the official trailer for BATKID BEGINS.
Here are other ways to show your support and become a part of this heartwarming project.
BATKID BEGINS links:

Indiegogo campaign: igg.me/at/batkidbegins
Website: batkidbegins.com
Facebook: facebook.com/batkidbegins
Twitter: twitter.com/batkidbegins
#BatkidBegins