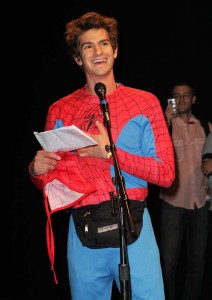 The fans attending Comic-Con on Friday, in San Diego, CA witnessed a persistent audience member who kept interrupting the moderator at "The Amazing Spider-Man" panel discussion, in Hall H of the San Diego Convention Center.
Dressed in a not-so-impressive Spider-Man costume, the kind you buy around Halloween at a costume retailer, the nervous audience member shouted: "Sorry, mind if I… hey everybody!" and despite the moderator's attempt explaining the rules of the Q&A and how questions will be answered at the end, the costume wearing man continued: "Can I say one thing? I think that this might be the most incredible day of my life. I've always wanted to be in Comic-Con, with all you guys. It's always been a dream of mine." And then he ripped off the mask, revealing that he was none other than the main man himself, Andrew Garfield, star of the upcoming movie. "So thanks for having me."
And the crowd? They lost their minds, of course.
"This is the coolest moment of my life," said Garfield genuinely excited to be at the world famous comic and Sci-Fi hero-worshipping event.
So, what are the differences we can expect from the new Spidey treatment?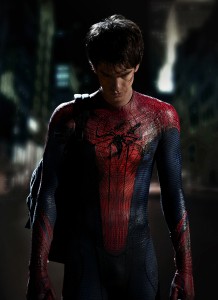 At a first glance, it is noticeable that the new Spiderman is quite skinny, unlike Tobey Maguire's portrayal where the actor made news as he bulked up for the role. In this new flick directed by Marc Webb ("500 Days of Summer"), the superhero's physique seems to stay the same lanky size as Peter Parker. This indicates that It Webb was most likely influenced by "The Ultimate Spider-Man" comic book series, which featured a thinner web-spewing hero.
The panel treated its Comic-Con audience to two extended clips from the film. One scene featuring Peter Parker stuttering in a nervous conversation with Gwen Stacey (played by Emma Stone, sat well with the usually picky audience. If anything, the scene is an early proof that Stone and Garfield have on-screen chemistry. Webb explained that as he was shooting the scene he "knew something was working" by witnessing Garfield's and Stone's believable interaction.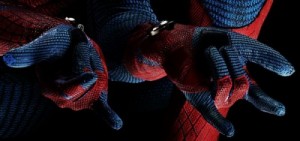 Another audience pleaser was seeing Peter Parker making the web-shooting devices that latch on his wrists, following the classic comic book story whereas in Sam Raimi's movies Spiderman's webs just shot out of his wrists, organically.
In another clip audience members met Spidey's nemesis, the Lizard. In the comic, and now the film, Dr. Curt Connors (played by Rhys Ifans) is a one-armed reptile expert whose mission is to find a way to regrow his lost limb but his ambitious ways result in him growing into a giant crocodile-looking thing.
Actor Andrew Garfield also expressed his joy over a surprise phone call he received from the original Spiderman, Tobey Maguire. Garfield said that Maguire "kind of gave me his blessing, which made me feel OK about jumping into it… He's the best. I'm Team Tobey."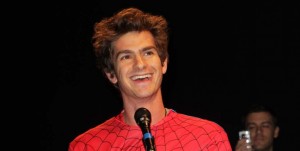 Good clips, a torch-passing blessing from its previous star, and good karma seem to align the film for a big opening July 4th weekend.
"The Amazing Spider-Man" casts his web on theatre screens on July 3, 2011.