This month, AFI announced an exclusive yearlong partnership with Spotlight Cinemas to showcase rare and never-before-seen footage from the AFI Archive as a part of Spotlight's pre-show entertainment aimed at exhibitors and fans of independent film throughout their theater locations, nationwide.
Each month, AFI will produce new segments that give theatergoers across the United States a look into the vintage treasures housed in the AFI Archives. The AFI Archive includes historic moments with master filmmakers, insights from American screen icons and much more.
Kicking off the pre-show starting in October will be a behind-the-scene look and inside stories about the making of NORTH BY NORTHWEST (1959) film, by the legendary master of thrills, Alfred Hitchcock.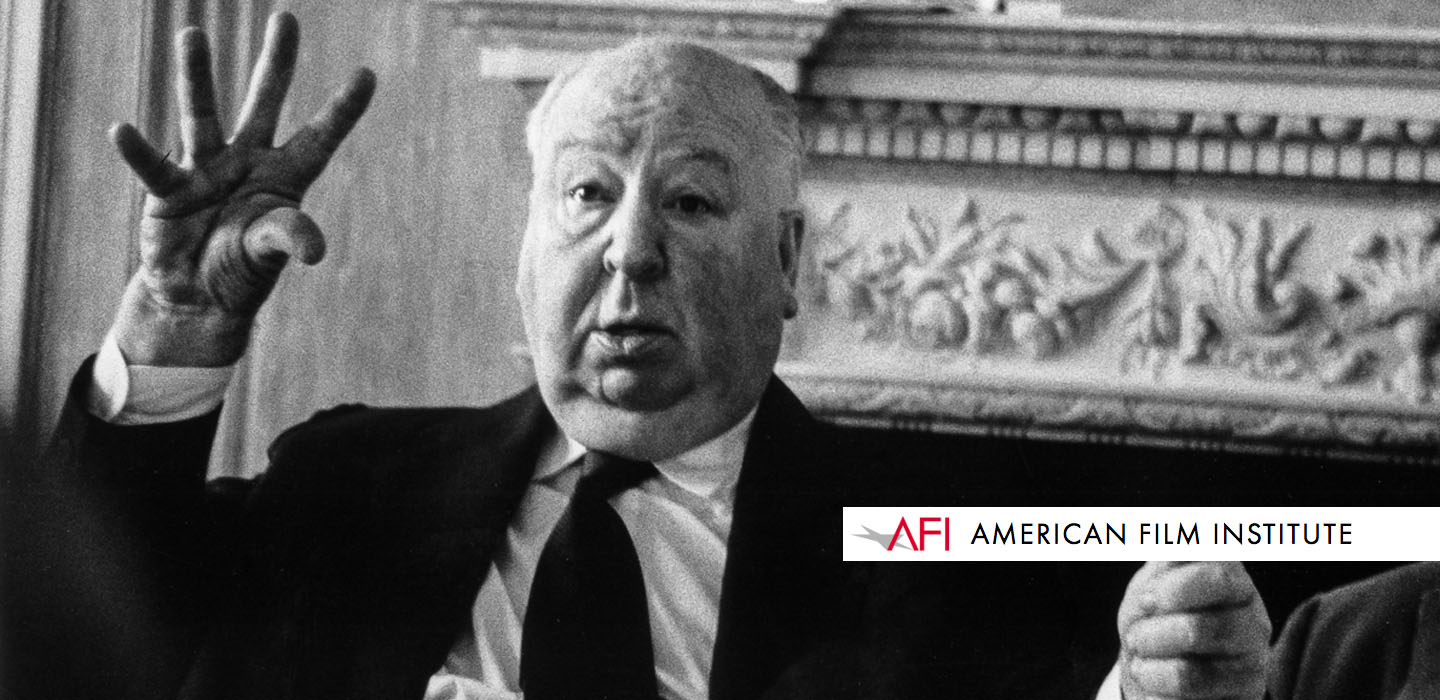 Across the United States rare archival footage from the AFI vault, will be seen by the upscale, affluent film lovers at theaters in the Spotlight Cinema Network.
The preshow presentations promise to inform, engage and entertain sophisticated moviegoers with focus on modern, and elegant look and feel and excellence in the quality of exhibition. One to three short films with a mixture of movie trivia, exhibitor interstitials, and cinema advertising will be rotating throughout the participating theater locations.
"Our partnership with AFI allows our sophisticated, nationwide audience to enjoy their history of iconic films and directors during our popular preshow," said Michael Sakin, President of Spotlight Cinema Networks. AFI's content is a natural fit for us. We're especially pleased to offer it exclusively to our network of art house and luxury exhibitors around the country."
"The mandate of the American Film Institute is to educate and inspire," said Bob Gazzale, AFI President and CEO. "Our partnership with Spotlight gives us a unique opportunity to do both by opening the AFI Archive to enrich the theater-going experience across the nation."
See the pre-show at the following theaters across the country:
Presidio Theatre: San Francisco, CA
Pruneyard Dine-in Cinemas: Campbell, CA
Vine Cinema & Alehouse: Livermore: CA
Cinepolis Luxury San Mateo: San Mateo, CA
Downtown Centre Cinemas: San Luis Obispo, CA
Admiral Theatre: Seattle, WA
Landmark Crest Cinema: Seattle, WA
Landmark Plaza Frontenac: St. Louis, MO
Landmark Tivoli Theatre: University City, MO
Landmark Bethesda Row: Bethesda, MD
Landmark E Street Cinema: Washington, DC
Landmark Atlantic Plumbing: Washington, DC
Landmark West End: Washington, DC
Cinepolis Luxury Gaithersburg: Gaithersburg, MD
Angelika Film Center Mosaic: Fairfax, VA
Angelika Film Center Pop-Up: Washington, DC
About AFI: Established in 1967, the American Film Institute (AFI) is the nation's nonprofit organization dedicated to educating and inspiring artists and audiences through initiatives that champion the past, present and future of the moving image.
The AFI Conservatory — the Institute's world-renowned filmmaker training program — opened its doors in 1969 to an inaugural class that included Terrence Malick, Caleb Deschanel and Paul Schrader. Today, the Conservatory offers a two-year MFA degree in six filmmaking disciplines: Cinematography, Directing, Editing, Producing, Production Design and Screenwriting. In a collaborative production environment, AFI Fellows learn to master the art of storytelling, collectively creating up to 175 films a year.
AFI FEST presented by Audi is a world-class event, showcasing the best films from across the globe to captivated audiences in Los Angeles.
With a diverse and innovative slate of programming, the eight-day film festival presents screenings, panels and conversations, featuring both master filmmakers and new voices. Special events at the festival take place at iconic LA locations, such as the historic TCL Chinese Theatre and the glamorous Hollywood Roosevelt.
Each year, AFI FEST showcases more than 125 films each year in several exciting sections which include Galas, Special Screenings, New Auteurs, Documentary, World Cinema, Cinema's Legacy and Shorts. The Academy of Motion Picture Arts and Sciences recognizes AFI FEST as a qualifying festival for both Short Films categories of the annual Academy Awards®.
Through annual tributes and conversations, the festival has honored numerous influential artists and icons, including Annette Bening, Halle Berry, Danny Boyle, Marion Cotillard, Catherine Deneuve, Bruce Dern, Isabelle Huppert, Barry Jenkins, Sophia Loren, Nicole Kidman, Viggo Mortensen, Steve McQueen, Natalie Portman, Christopher Plummer and Tilda Swinton. Past Guest Artistic Directors have included Pedro Almodóvar, Bernardo Bertolucci, David Lynch and Agnès Varda.
Spotlight is owned by Mark Cuban, Todd Wagner and Arthouse Marketing Group.