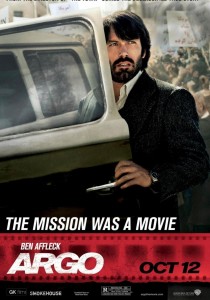 Ben Affleck's third film behind the camera opens tonight in theatres everywhere and the hardworking multi-hyphenate has done just about everything short of going door-to-door to ensure moviegoers know about it. Argo is ready to clean up at the box office following a raft of glowing reviews.
CLICK HERE for Argo's Rotten Tomatoes review index.
CLICK HERE to read Brave New Hollywood's past coverage of Argo.
The film chronicles a little-known incident during 1979's Tehran Hostage crisis when a group of American diplomats were smuggled out of the country by posing as members of a fake movie crew. Tony Mendez, a disguise and "exfiltration expert" for the CIA, worked with the Canadian government and several actual Hollywood filmmakers to pull off the caper. The movie they were pretending to make was called Argo.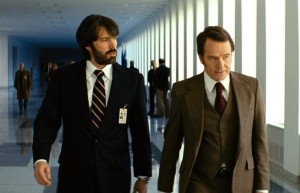 The cast doesn't get any better, starting with Affleck in the leading role as Mendez. Alan Arkin, Kyle Chandler (Friday Night Lights) and Tate Donovan, among others, fill out a supporting cast that includes John Goodman—already onscreen in Trouble with the Curve and The Campaign—and the superhot Bryan Cranston, who is burning up the small screen in Breaking Bad.
Affleck's career was in the doldrums post-Bennifer and all of the tabloid noise surrounding his high-profile romances. But he reinvented himself in the eyes of Hollywood first with Gone Baby Gone in 2007, and then The Townthree years later. Both were critical hits, and the latter cleaned up at the box office, too.

There's not a superhero in sight in any of these films and no expensively computer-enhanced vampires or zombies. The success of Affleck's directorial career should give hope to any movie fan or aspiring filmmaker who despairs—we don't blame you!—that Hollywood has given up on original, intelligent storytelling about real people. Argo is a real movie about an actual fake movie wrapped up in a hostage crisis—only in Hollywood could this happen, and we're grateful audiences still want to support these kinds of stranger-than-fiction stories.
See you at the movies!
CLICK HERE for the official Argo website.
Trivia note: In Greek mythology, the Argo was the name of the ship carrying Jason and the Argonauts in their quest to retrieve the Golden Fleece.