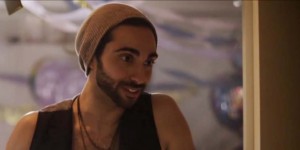 Actor Lee Majdoub is truly the face of the new global cinema. Born in Lebanon, but having lived in Italy, Switzerland, the USA, and now Canada, his tastes and talents are as eclectic as his increasingly diverse résumé. Accordingly, we here at Brave New Hollywood were thrilled to nab the busy actor (Underworld: Awakening, The CW's Arrow) for a candid chat about everything from the his involvement in two terrifying new films, to what it truly means to 'make it in Hollywood.'
How did you end up in Hollywood?
"Actually I'm in "Hollywood North", Vancouver, Canada."
Can you talk a bit about working on See No Evil 2? How was acting opposite (WWE superstar) Glenn 'Kane' Jacobs?
"See No Evil 2 was an incredible set to be on. Everyone was super welcoming.  There was a definite feeling of being a 'part-of'. To work opposite Kane was a dream come true. I remember first meeting him during a script-read. I was in the middle of a conversation and I looked to my right, and there was this super-tall man. It took me a second to register who it was. I think I heard my inner voice belt a long, high pitch, fan-girl scream. It's been one of very few times where I allowed myself to be star struck. "
"Glen (Kane) is an incredibly gentle soul. We got along great and watching him work on set was a crazy learning experience. He's close to 7 feet tall, but moves with a ton of finesse.  He is meticulous and has razor sharp focus."
And your friend, Kaj-Erik Eriksen?
"Unfortunately, I didn't get many scenes with Kaj. Our characters don't mix much in the movie. I did get the opportunity to watch him work on a pretty cool scene. His character, Seth, was going through a tough time and I remember Kaj knew exactly what he needed as an actor and took control of the scene. I was like, "Wow… this guy's a true professional". It was cool."
You also have a segment in the horror compilation, ABCs of Death 2, helmed by your See No Evil 2 directors – twin sisters, Jen and Sylvia Soska – coming up… Can you talk about that?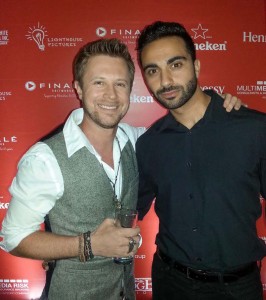 "Jen and Sylvia approached me about being in it. I love those women. They know how to run a set. As far as I can tell, they were involved in every aspect of the making of SNE2. What more could you want from your directors? They are huge horror fans, huge wrestling fans, comic book fans, you name it. They brought an undying passion to the set so how could I have possibly said no to working with them again?"
Are you a horror fan?
"Of course I'm a horror fan! I only wish my heart could take all the horror I want to watch. I am what I would call… a scaredy-cat. The only way I will watch a horror is if my girlfriend pushes hard enough, and if I can use her as a shield. I'm usually the guy yelling, Oh S–T! or Nonononono… what are you doing?! in the theaters. Why am I admitting this?"
Both films are sequels per say, but each are literally injected with such new blood – both in front of and behind the camera – that they feel wholly fresh… Were you apprehensive about doing sequels?
"Both films definitely feel different than the firsts in the franchises. It was easier to tell with See No Evil 2, because I was more involved and it's one story, whereas with ABC's… I was only involved in a segment. I think there's always a little apprehension when you approach a sequel. I mean, I always find myself asking, Why are they making a sequel?— Or even a remake for that matter? Or immediately judging a sequel that hasn't even been made yet."
"I was a huge fan of wrestling back during their 'Attitude' era, and I was a big supporter of Kane. That on its own took away a lot of the apprehension. I also researched the wonderful Soska sisters, and after watching (2012's) American Mary I knew this film was in good hands. (And) I think the beauty with "See No Evil 2" is that it feels like a film on its own…The first one was used more for inspiration. If you haven't seen the first, you'll still enjoy and understand the second… I hope."
What's the best and worst thing about franchise filmmaking?
"I think the best and worst thing about franchise filmmaking is just that: How do you stay true to the first installment, yet stay original and creative? It's easy to feel like you're shoved into a corner. At the same time, you already have all this information from the first, so you don't need to worry about exposition and establishing everything."
Do you feel a duty as an actor today to maintain an active social media presence. If so, do you enjoy it?
"I absolutely believe in maintaining a social media presence. In my opinion it's part of the job now. I have Instagram, Twitter, Vine, and Facebook. I love doing it, but sometimes it can be a challenge. If I have an off day– or a few, it can be hard to get myself to do it. However, like I said, it's part of the job… so I suck it up buttercup. But, yeah, I do enjoy it.
Much has been made lately about the shift to a more global based film industry – with box office revenue in countries like China becoming more critical than even US numbers… Can you detect this shift? How do you feel about this supposed belief that you have to make it in Hollywood 'to make it'?
"I think the shift's becoming a little more detectable. The fact that the industry is becoming more global opens the doors for more creative filmmaking– How do we make films that are going to be marketable to the entire world?"
"I also think it's opening the door even further to writing & casting more ethnically diverse characters. As far as making it in Hollywood in order to "make it"… I think it has become less and less prevalent. Hollywood is still 'Head of Operations', and the U.S. definitely knows how to market their talent. It plays a big part in getting your face 'out there'. However, I have a number of friends here, in Vancouver, whose careers have taken off. They've put a lot of work in and made it happen."