Posted on 06. Oct, 2011 by Henrick Vartanian in Now U Know
Cue super-hero sound effects Krakoooom!!! Here is Marvel's big visual tease via Entertainment Weekly.  The cast share juicy tid-bits about the May 4, 2012, movie in this week's issue of EW, on stands tomorrow, telling EW about their characters and working together as a team, under the leadership of writer-director Joss Whedon, the man worshipped for creating Buffy the Vampire Slayer and Firefly.
What the actors told EW:
Scarlett Johansson as BLACK WIDOW: "The other day we were doing this big reveal shot of all the Avengers. Thor has got his hammer, Cap's got his shield, Hawkeye has his bow and arrow, and Hulk is huge. Then it pans over to me and I've got guns. Iron Man's like, hovering above all of us, ready to go," says Scarlett Johansson. "I was like, 'Joss… um… do I look okay holding these guns?'" Whedon's response reassured her: "She's a total badass. She's a killing machine."
Robert Downey Jr. as IRON MAN: What were Robert Downey Jr.'s first meetings like with Whedon when the script was being developed?
Chris Evans as CAPTAIN AMERICA says this Steve Rogers (in The Avengers) is much darker, more cynical. "It's just about him trying to come to terms with the modern world. You've got to imagine, it's enough of a shock to accept the fact that you're in a completely different time, but everybody you know is dead. Everybody you cared about."
Mark Ruffalo as THE INCREDIBLE HULK, explaining that, here, Bruce Banner really wants to join The Avengers, but because of his past and the group generally fearing him, he's the biggest outcast of these outcasts. "He's the most mild-mannered guy, but a total loose cannon. No one wants to set him off except for Iron Man, except for Downey, who just wants to see him pop," Ruffalo tells EW, laughing.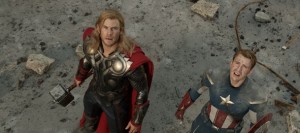 Jeremy Renner as HAWKEYE: He is one of the only regular humans in The Avengers, (him and Black Widdow). This, Renner says, gives him a working-class-superhero pride.
Read more about The Avengers movie in EW, or CLICK HERE for more.