Posted on 12. Sep, 2011 by Ben Scuglia in Now U Know
So is Steven Soderbergh retiring or not? The prolific auteur has the paranoia-thriller "Contagion"—in which a deadly virus takes out an all-star cast of Oscar-winners and nominees (in theaters now). But all anyone wants to know is whether he'll leave filmmaking behind at the ripe old age of 48.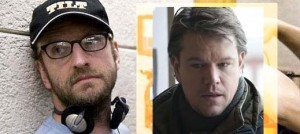 News of his much-gossiped-about retirement has been circulating for some time. And with more than 20 films under belt following the debut of "sex, lies and videotape" in 1989—including an Oscar for directing "Traffic" the same year he was also nominated for directing "Erin Brockovich"—it's easy to see why he might be feeling a bit tapped out.
The retirement hoopla got a blogosphere boost last month when Soderbergh blamed the loose lips of "Contagion" costar Matt Damon. Damon laughed it off during an interview with NYMag.com when he was confronted with the news that his director—and real-life buddy—claimed he gossiped "like a 14-year-old girl."
"He was like, 'I can't believe you remembered verbatim what I said,' but that's because he as drunk, you see," Damon recalls. "So he didn't realize that I was actually faking it [being drunk], so I could get a scoop, and bring it back to you guys. [Grins]"
Soderbergh appears to have realized the gossip was getting out of hand. Movie audiences, many of whom may be struggling financially, don't necessarily want to hear about a privileged, wealthy artist walking away from a lucrative dream job.
"Call it whatever you want—hiatus, sabbatical," he said in a Reuters interview. "I'm just gonna disappear for awhile." He cites exhaustion as the reason. "It's not that I want to. I need to. I've been running really fast for quite a while. It's been nonstop since 'Out of Sight' [1998]. That's a lot of work."
Already in the can is "Haywire," an action-adventure starring MMA badass Gina Carano in her film debut. That one hits theatres in January 2012.
Soderbergh next moves on to the male-stripper epic "Magic Mike" starring Channing Tatum. He'll helm a bigscreen version of the TV classic "Man from U.N.C.L.E." in February and follow up with the "Liberace" biopic starring Michael Douglas next June. That's a full plate for a guy looking to take a break. He'll have to be available to do press for all of those films. Then he'll hit the beach, so to speak. Or not. Stay tuned.
For "Contagion" movie's official site, CLICK HERE