Posted on 20. Apr, 2012 by Harrison Cheung in Movies, Now U Know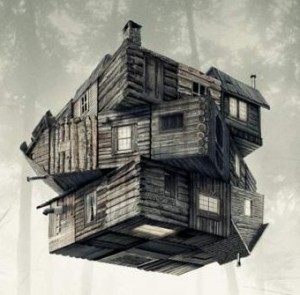 CABIN IN THE WOODS. Even the title seems oddly familiar – haven't we seen this horror movie before? First time director, Drew Goddard, collaborated with sci-fi cult hero, Joss Whedon (FIREFLY, AVENGERS) to turn every horror movie cliche on its head with this interesting twist of a twist.
The premise has been done previously – from the SCREAM movies to NEW NIGHTMARE – a horror movie where the characters are self-aware that they are suffering through standard horror movie plots.
The key to unlocking the movie is served right up in the opening credits – I'll say no more – but there are enough clues waved in the audience's face that when all is revealed, you're going to have a major 'aha' moment.
The basic plot is Horror-Slasher flick 101, circa 1980.  A bunch of horny college students decide to go on a camping trip to a remote…. cabin in the woods. We have the jock, the slut, the fool, the nerd and the virgin.  When they get to the cabin, the stupid young people are soon fighting for their lives as they get hunted down, one by one, archetype by archetype.
Leading the eye candy is Australian hunk, Chris Hemsworth, who will be hitting the big screen as Thor in this summer's AVENGERS. Playing his girlfriend is Anna Hutchison, who comes across like Botox Barbie come to life. By the time the horny hotties figure out they're being manipulated by forces unknown, it's a scary night chase with a cabin that ends up being full of tricks – if you remember the house from 13 GHOSTS, you'll have a good idea.
Unfortunately, like far too many slasher flicks, the characters are thinly written, and the ending is a chaotic mess. The scares are surprisingly mild, but the broader story does make this movie one of the more interesting horror flicks in many years.