Here comes the new poster for Point Break 2015.
Last month Warner Bros. gave us a glimpse of the new Point Break movie at CinemaCon in Las Vegas, giving us a look at the two leads, taking on the legendary places of the original film.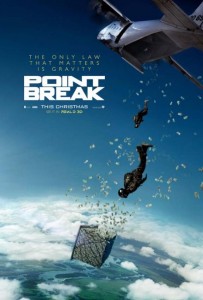 Drum roll, the new poster, with skydivers jumping out of a sky, chasing a huge loot of cash? Hey, we can get into this.
The reboot of the  action-thriller featuring Luke Bracey in the Johnny Utah role originated by Keanu Reeves, and Edgar Ramirez as Bodhi, formerly played by Patrick Swayze. Utah, an FBI agent working undercover with a gang of adrenaline-junkies who happen use their skills and time engaging in high-stake crime.
Director Ericson Core's has pushed the stakes higher, not limiting the criminals to just bank robbery but more elaborate heists that involving their dangerous hobbies and extreme sports.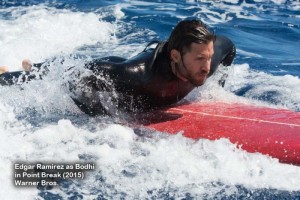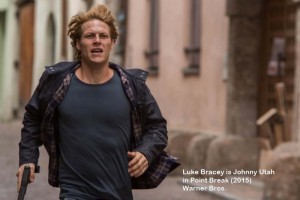 With hard-actioned, high-octaned movies more popular than ever, remains to be seen if this film or any other can catch up with the unstoppable cash machine that's the Fast and Furious franchise.
A little trivia about the original Point Break (1991): Directed by Kathryn Bigelow (The Hurt Locker), it was a $8.5 million (opening weekend) box office success at spot #2, tailing after her then husband, James Cameron's Terminator 2: Judgment Day.
Keanu Reeves learned to surf for the role and as a result surfs until this day.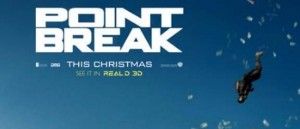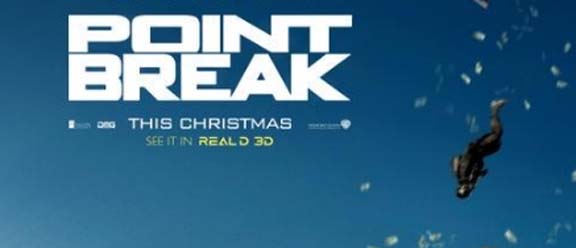 Johnny Utah became a FBI agent after a knee injury ended his football career. In real life, Keanu Reeves was once an aspiring hockey player who suffered a knee injury and went on to become an actor.
Matthew Broderick was originally offered the role of Johnny Utah. So was Val Kilmer who turned it down.
Also starring in the movie are Teresa Palmer, Ray Winstone, Delroy Lindo and Tobias Santelmann, slated for U.S. release on Christmas Day 2015.
CLICK HERE to connect with the film on Facebook.