Posted on 24. Sep, 2011 by Annee Pfau in Television
If anyone tells you the 60's aren't sexy again, they must be stuck in the 90's. Seems everyone's pointing their tie-dyed fingers at Mad Men as the culprit (and we don't hear AMC complaining), but really, people; have you so soon forgotten filmdom's feeble forays down the path first (hello, Bewitched, Addams Family, Get Smart and Scooby Doo)?
It's just that now, television "appears" to be getting the formula right: borrowing iconic, real-life symbols of the era, and bringing them to life in "story form" with diverse characters who strut, swagger and go-go their way through worlds that are awash in glossy, HD goodness.
Indeed, both Pan Am (ABC) and The Playboy Club (NBC) are among the Fall season's most highly-anticipated debuts, both boasting picture-perfect casts who couldn't look more delicious in a land where Camelot, the Mousketeers and World Innocence are alive again
Think it's easy to make such dreams look so—well—real? Think again, as the production teams behind these series will wearily tell you.
Coincidentally, it was a legendary Hollywood costume designer, Edith Head, who created many of the looks for the original Pan Am flight attendants (AKA—ahem—"stewardresses"), and now, a well-kept original will fetch you a decent buying price from collectors on ebay.
Ane Crabtree was the lucky designer selected by Sony to re-create Head's look, as well as oversee the "down time" frocks worn by Christina Ricci, Kelli Garner, Margot Robbie and Karine Vanasse. Crabtree, who'd wowed all with her previous work on The Sopranos, compares television costuming to "a marathon", and also tells the blogsters at www.glamour.com: "…everything is either vintage or you're making it. And TV is notorious for last minute castings, so sometimes we have literally a half hour to make things happen and I have to sort of do a psychic vision of how things have to be and hope the characters get cast to that size." Crabtree also notes that vintage fashions as a whole do have to be "re-tweaked" to meet the needs of body styles and figures that are infinitely different than what they were nearly 50 years ago.
Pan Am is filmed in New York—more exactly, on a soundstage in Brooklyn, where Crabtree sends her gorgeous cast into the "sky" aboard a nearly-complete rebuild of a Boeing 707. The show's technical advisor, Toby Conroy, tells the New York Post: "Our altimeter is set at 35,000 feet when cruising. Our landing-gear lights illuminate upon landing…the level of detail that went into the build is staggering." And yes, travelers on this liner can actually light up and smoke in their seats…and order a drink in authentic 60's martini glasses at the full bar.
Just a bit further inland, Chicago is the home for the cast and crew of NBC's The Playboy Club. The setting is perfect, for Chi-Town was the home of the first club, which opened there in 1960.
This sultry, smoky, sex-is-still-glamorous world was brought to life by Production Designer Scott Murphy, who selected Cinespace Chicago to house the opulent set for the club itself, as well as smaller spaces for the bunnies' dorm and other characters' apartments and homes. All of the sets are dressed to the detail, including pink hair rollers, fur-trimmed nighties and, of course, lava lamps. Murphy tells www.timeoutchicago.com that the floating staircase in the Meigs Airport Terminal served as his main inspiration for the centerpiece of the nightclub set: "The staircase captures the feel of a place where people are supposed to look at other floors."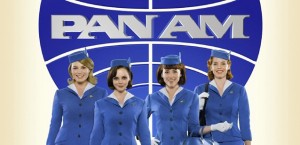 Ah yes, the ogling. These actresses (Amber Heard, Jenna Dewan-Tatum, Laura Benanti, Leah Renee Cudmore, Jenifer Lewis) have to look better than the originals—there's a fantasy to uphold here, after all! Accomplishing that feat is Costume Designer Isis Mussenden, who advised her actresses to eat like real bunnies: those satin leotards really are that unforgiving! Additionally, actresses were required to "lift" everything properly by wearing one pair of nude pantyhose topped by a second pair in black. One additional challenge: making each character an individual entity, since the real Playboy bunnies were required to remove all outward signs of personality. Mussenden used color to accomplish the feat, ending up with a rich palette of shades designed to evoke specific emotions. Mussenden tells the Costume Designers Guild: "We had to build all of the bunny suits from head to toe, including collars, cuffs, and bow ties. Shoes were also dyed to match, and everything had to be fit and refit…we never stopped prepping until the last day of shooting."
Sexy? Yes. Realistic? Absolutely. Easy? There's quite a few hard-working people this Fall who'd tell you no, but let's not wake them up…and just enjoy the ride!