Posted on 03. May, 2011 by Henrick Vartanian in Now U Know, Television
It's time for that Golden Popcorn to go home with a new bunch of tweeny fave'd stars, as the MTV MOVIE AWARDS were announced today. MTV allows you, the ticket-paying, box-office-ringing fans to vote in the Best Movie categories online. The show will air on Sunday June 5, and is hosted by Jason Sudeikis.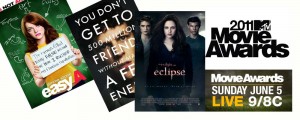 Don't forget MTV will also unveil it's highly anticipated, slickly teased new series: TEEN WOLF, premiering that same night, right after the awards show.
The nominees in three categories are posted below. Voting begins today at noon on the MTV Movie Awards website. New category alert: Best Line from a Movie
Best Female Performance
Emma Stone (Easy A)
Emma Watson (Harry Potter and the Deathly Hallows — Part 1)
Jennifer Aniston (Just Go With It)
Kristen Stewart (The Twilight Saga: Eclipse)
Natalie Portman (Black Swan)
Best Male Performance
Daniel Radcliffe (Harry Potter and the Deathly Hallows — Part 1)
Jesse Eisenberg (The Social Network)
Robert Pattinson (The Twilight Saga: Eclipse)
Taylor Lautner (The Twilight Saga: Eclipse)
Zac Efron (Charlie St. Cloud)
Best Line from a Movie
"I want to get chocolate wasted." – Alexys Nycole Sanchez (Grown Ups)
"There is a higher power that will judge you for your indecency." "Tom Cruise?" –Amanda Bynes and Emma Stone (Easy A)
"If you guys were the inventors of Facebook, you'd have invented Facebook." — Jesse Eisenberg (The Social Network)
" …A million dollars isn't cool. You know what's cool?" "A billion dollars. And that shut everybody up." – Justin Timberlake and Andrew Garfield (The Social Network)
"You mustn't be afraid to dream a little bigger darling." –Tom Hardy (Inception)
2011 MTV MOVIE AWARDS website: http://www.mtv.com/ontv/movieawards/2011/