Posted on 26. Mar, 2012 by Harrison Cheung in Movies, Now U Know
Okay, the numbers don't lie – JOHN CARTER was a dud at the box office. But does that make it a bad movie?
If you liked PRINCE OF PERSIA, JOHN CARTER is in a similar vein – a swashbuckling action flick that is also reminiscent of RAIDERS OF THE LOST ARK or THE MUMMY.
While Hollywood does its postmortem about the reasons for JOHN CARTER's financial failure, the answer may lie in the confusing way Disney chose to market the movie.
Disney has had an odd track record when it comes to marketing live action films as opposed to animation. Back in 1992, the very first live-action musical in generations – NEWSIES – was a bomb at the box office, but ended up a hit on video and has now spawned a successful Broadway run – and the career of its star, Christian Bale.
Way back in 1979, Disney blundered again with its "haunted ship in space" sci-fi picture, THE BLACK HOLE.
Disney's much ballyhooed sequel to TRON was another misstep in marketing, promoting a film to fans who may have never seen the original film.
Now with JOHN CARTER, this is another textbook case of Disney trying to steer its Titanic marketing campaign through uncertain waters. Is it sci-fi? Is it a celebration of author Edgar Rice Burroughs' 100th anniversary? The movie itself went through a number of title changes: JOHN CARTER OF MARS, PRINCESS OF MARS, and finally the least helpful JOHN CARTER – not to be confused by the GET CARTER movies, I'm sure!
The trailers for JOHN CARTER were also unappetizing, looking derivative, right up to the point where the titular character is smeared with blue, looking as if he stepped out of a BRAVEHEART battle right onto planet Pandora.
JOHN CARTER stylistically is similar to a SHERLOCK HOLMES movie. It also reminded me of the Will Smith movie WILD WILD WEST where 19th century architecture and machinery decorate sci-fi technology.
It's a fun action movie with a great cast. John Carter (Taylor Kitsch who at times looks like a very young Johnny Depp) is a Civil War veteran, tired and saddened by the death of his wife and child. Through means best explained by the movie, he is teleported to Mars where he begins a great journey, first as the pet of an alien tribe led by Wilem Dafoe, then as the hero to the Princess of Mars – herself fighting a civil war between two factions – one led by Dominic West, the other by her father Ciaran Hinds. The only weak link here is Lynn Collins who plays the Princess of Mars in typical Disney formula – a feisty woman with feminine wiles like Princess Jasmine from ALADDIN.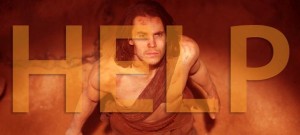 The special effects are first rate and have an epic quality. Keeping its hunky star Taylor Kitsch in loin cloth is a none-too-subtle reminder that Edgar Rice Burroughs would go on to write the TARZAN novels. Kitsch looked pale and anemic at the beginning of the film, but I eventually figured out it was the film's way of separating the "white earth man" from the "red Mars people" by subtle complexion.
Director Andrew Stanton's first live action film – he's best known for FINDING NEMO and WALL-E – keeps JOHN CARTER entertaining and paced but it's still over 2 hours long. Some of the graphics are too similar to blockbusters of the past. A racing scene looks exactly like a race scene from STAR WARS Tattoine. So does an arena battle. If the point JOHN CARTER is trying to make is that its story preceded STAR WARS, that's not going to help today's moviegoers who are only going to see a movie that has come after George Lucas' work.
Edgar Rice Burroughs wrote 10 John Carter novels, and unfortunately, the chances of a sequel are dependent on its box office. For the first summer movie, JOHN CARTER is well worth being transported for a couple hours.
CLICK HERE for "John Carter" website.