Joe Reegan is busy. In glitzy Los Angeles where everyone wants to be an actor, writer, whatever; and be associated with Hollywood, actor Joe Reegan has managed to do just that; by staying active!
Popping up in movies like 2010's
The Crazies
(directed by Breck Eisner), and Mark Pellington's new film
I Melt With You
, along with guest-starring roles on TV such as:
CSI, COLD CASE
, and
WITHOUT A TRACE
, have made the young actor simply identifiable; not just to the film and TV audiences, but to industry professionals who may want to take notice and hire him. Reegan's TV work alone, has elevated him to a status we call "Bruckheimer-friendly" – music to Joe's ears, no doubt, since the actor just shot another TV show,
The Whole Truth
opposite actress Annabella Sciorra – also produced by the Bruckheimer machine.
Reegan's latest role in
I Melt With You
(starring Carla Gugino, Rob Lowe, Thomas Jane, and Sasha Grey) marks his return to the
Sundance Film Festival,
having visited the festival back in 2005 where he made his debut in the short film "Swallow."
I Melt With You (one of the most talked about films at Sundance, and now acquired by Magnolia Pictures) focuses on four friends whose annual get-together results in self-discovery and the realization that their lives haven't exactly turned out the way they expected.
Returning from Sundance, and while gearing up for his next starring role in ABC's
CASTLE
, Joe made some time for a quick chat with Brave New Hollywood, and it went like this.
BNH: Tell us about "I Melt With you" – what do you like about the film (or the story)?
JR: The story is incredibly close to the director, Mark Pellington, and a passion project of his.  It is brutally honest, intense, taboo, beautiful…it's rock n' roll. It's America right now, and it doesn't matter if you are 40 or 20, something in the film will strike a chord.
BNH: Where was the film shot and what were some of the challenges making it?
JR:
The film was shot on location in
Big Sur
, California. It had a micro budget and we shot on 5D's. We would do 20 minute takes. It felt like a swarm of these little cameras were following our every move.  No big lighting set ups, no real marks to hit.  When we heard action, we really lived in the space. It was a large house and we moved around the space. It was challenging but a lot of fun.
BNH: What is your character in 'I melt' about and in what ways are you alike?
JR: My character in the film is one big sponge, ready to try and experience anything life throws his way, and has no concept of consequences.
BNH: Is he anything like you in real life?
JR: No, I'm much more of an introvert and probably a lot more shy, socially.
BNH: Let's talk Thomas Jane, an exciting actor, and your co-star in this film. Does he have the biggest balls (artist wise) in Hollywood or what?
JR: Thomas was a rockstar on set.  Half the time in character, and half the time he sang and played guitar.  Fascinating guy, dynamic actor and pleasure to work with.
BNH: The film also stars Sasha Gray who has done pretty well evolving as a TV and cinema actress. What do you think is the key to her success?
JR: I could do an essay on why Sash has the career she has.  She is incredibly perceptive and intelligent and aware of what she is up against. I'm walking away from the film with such complex and fascinating friend; priceless.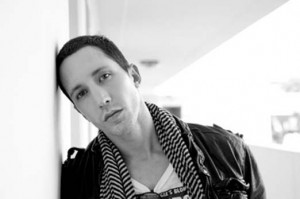 BNH:
A question actors are asked so many times, but what do you look for in a role, regardless of the genre or the overall quality of the screenplay?
JR: In a role, I always look for a character I am scared to do. If I haven't been scared shitless, I don't think I have done anything worthwhile. Film is a director's medium. You can have a great story, great character, etc…. I have my list of directors I want to work with.
BNH: You've already been to Sundance twice. How is the Sundance experience? What do you need to know going into that 'film festival' atmosphere?
JR: I was new to the business the first time I went; my first film played there. I was incredibly humbled and excited.  This time around, it was just nice to be invited back. And at the end of the day, everyone is there looking to watch and experience great movies, go snowboarding, and go to a few rockin' parties.
BNH: You also produce. How do you prepare when you put your "producer's" hat on?
JR: The only way to make it happen is to seek out the most competent, brilliant, artistic and business savvy people you can get your hands on. It's another part of our industry that gives you insight and helps make you a better actor. Eventually, being able to direct and possibly write, those are all things that I feel help the creative process.
BNH: Last but not least: in today's film and TV industry, what are 3 major things for a young rising actor to keep track of?
JR:
1. True friends
2. Good guidance
3. Work ethic