This week, June 2, 2015, indie Food-comedy Eat With Me (released by Wolfe Video) arrives on DVD in addition to being currently available on VOD.
Starring a charismatic, rising star of an actor, Teddy Chen Culver, with newcomer Aidan Bristow, opposite Sharon Omi, and Nicole Sullivan (TV's "Family Guy", "MADtv"), this LGBT themed film is a carefully put-together tale about family, sexuality, the quest for inner peace, and embracing the truth.
With stylish visuals, set against downtown Los Angeles, and its likable characters, Eat With Me is not only a conversation-starter for families of all kinds, but a refreshing look at cultural comfort zones, personal views, and the journey towards growth, acceptance, and ultimately, love.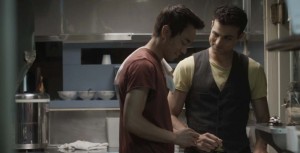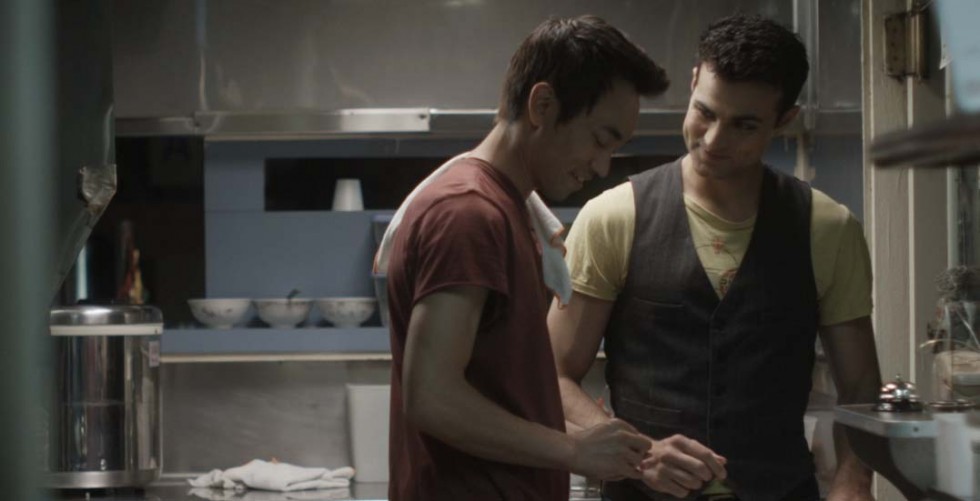 Written, directed, and edited by a new and welcomed voice, David Au, Eat With Me (trailer here) is a personal and vibrant tribute to Au's Chinese-American upbringing, the healing power of food and its ability to communicate beyond words.
David Au has created a touching and personal tribute to his Chinese-American family, the healing power of food and love, and a transcendent tribute to motherhood.
This film is strong on storytelling, fleshed out characters, with the right dash of drama and good dose of comedy. As for acting, high marks go to Sharon Omi for playing the overpowering, strong mother to her distant, gay son, Elliot (Culver), with delicate subtleties. She channels every mother yet stamps her signature on the character. Higher marks to the principle cast for sticking with this project for ten years, developing it from a short film to a full length feature. Talk about passion!
VIDEO BELOW – Watch director, David Au talk about how the film went from a short to a independently financed feature film, with a cameo by Star Trek's George Takei.
The calm, hearty style, and the undeniable charm of actor, Teddy Chen Culver are an asset to this film.
The calm and hearty style, and the undeniable charm of actor, Teddy Chen Culver (as Elliot) are an asset to this film, and infectious to its viewers. And if Hollywood ever took more chances on casting non-white actors in lead roles, this thespian will deliver the goods as he is leading man material.
Now, if there was a way to utilize a famous Hollywood cameo, Star Trek's George Takei, in a smaller role, filmmakers, take note. The legendary actor and advocate of LGBT causes makes a fitting, valuable appearance in this independent film.
Eat With Me had its World Premiere at the 2014 Los Angeles Film Festival and has since played at dozens of top LGBT film festivals in the US, including the Frameline Film Festival in San Francisco, Boston LGBT Film Festival (Opening Night Film), Houston Film Festival (Closing Night Film), Chicago Reeling Film Festival and Out In Film Atlanta Festival. EAT WITH ME has also picked up several prestigious festival awards, including Best Comedy Film and Best Actress at the 2014 Out In Film Atlanta, and Best Feature at the 2014 Florence Queer Film Festival.
Eat With Me is currently available across all digital platforms including iTunes, Vimeo On Demand, and WolfeOnDemand.com and DVD on June 2, 2015 via Wolfe Video and other major retailers.
[videos file="https://www.youtube.com/watch?v=4-xEsMpBhMM" width="560″ height="315″][/videos]