Posted on 10. Mar, 2011 by Ben Scuglia in Movies, Now U Know
Movie lovers will now have a chance to catch a new film packed with sexy gun-toting assassins, booze-soaked mystery men, dashing hunks, doe-eyed ingenues and more—for free. "Girl Walks Into a Bar" premieres on the YouTube Screening Room channel this Friday, March 11. All you need is an internet connection.
The unusual premiere came about through a deal inked between the film's producers and the Lexus luxury car brand. It is believed to be the first time a major motion picture packed with boldface-name actors has premiered exclusively online.
Writer/director Sebastian Gutiérrez corralled a starry cast that includes Gil Bellows, Xander Berkeley, Alexis Bledel, Rosario Dawson, Emmanuelle Chriqui, Danny DeVito, Robert Forster, Carla Gugino, Josh Hartnett, Zachary Quinto, Aaron Tveit, Amber Valletta and Kevin Zegers.
A hapless dentist (Quinto) arranges a hit on his wife with an assassin (Gugino) and "unknowingly sets off a chain of events that fuels a cross town journey through the many lounges, bars, strip clubs and nudist ping-pong clubs scattered across Los Angeles," notes the press description.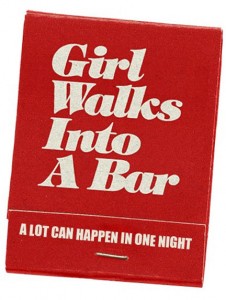 In a release announcing the film, Gutiérrez said he wanted to prove the viability of the Internet for distributing films "which rely on story, characters and dialogue as opposed to special effects. For many reasons, the theatrical indie landscape has changed drastically in the last few years, leaving many potential breakout hits without an audience," he said. "We are excited to break the rules of feature films by letting people watch our movie for free online."
Principal photography was completed in eleven days in March 2010 across Los Angeles with a Canon 7D high-definition camera. Following its red-carpet premiere at the Hollywood Arclight theatre complex this past Monday, March 7, the movie is also set to screen at the SXSW: South by Southwest festival later this month.
"Girl Walks Into a Bar" is a Shangri-La Entertainment presentation of a Gato Negro production. Gutiérrez produced with Shangri-La's Steve Bing and Richard Rosenblatt and co-producer Zach Schwartz. The composer is Grant Lee Phillips.
CLICK HERE for the film's Facebook page with a trailer and other scoop, including video snippets from the cast.
CLICK HERE for the film's YouTube channel.