Posted on 30. Dec, 2011 by Annee Pfau in Featured, Now U Know, Television
It's TIME! Your hard-working BNH staff gathered over our Starbucks and laptops to come up with our first-ever, collaborative LIST!
Cue the dramatic music and let's bring on THE BNH TOP TV HOTTIES OF 2011.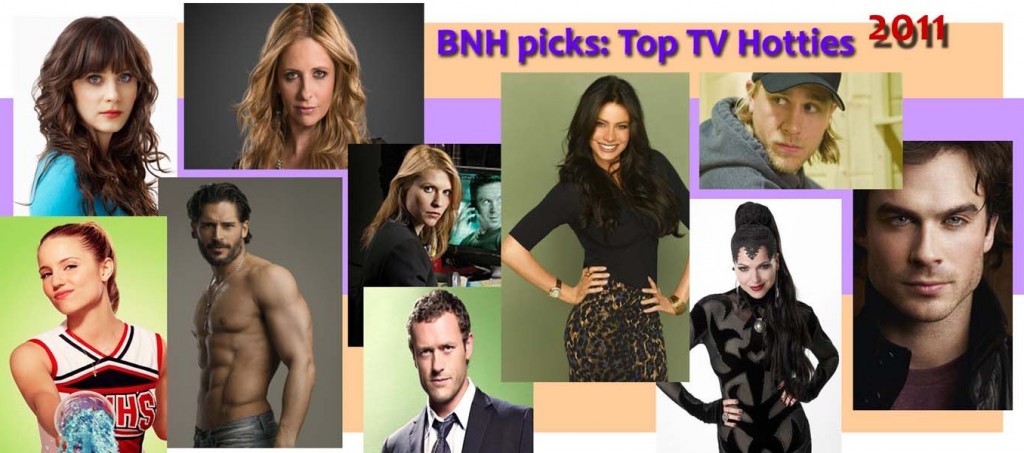 But first: a commercial (Hey; it's better than an ad for Cialis, right?)
You might be wondering: why jump into Listie-Land with a compendium of TV folk? Why, indeed. Let's face it, while we were all ruminating the Meaning of Life over our lattes, the boob tube grew into something not so—well—boobish any more. In the last couple of years, some of filmdom's finest have even jumped into the TV Sea, which now sparkles with so many waves of scripted goodness, we hardly know where to chart our course first! So we thought it the best time in the world to weigh in with our collective consciousness about how we've felt the year has gone, talent-wise.
Despite yon earlier comment about being directionally challenged, we actually DID establish some hard limits on how this list was comprised. Said Limits were:
–Nobody on the list who didn't have to memorize a line. No offense, reality and competition TV, but transforming a line of words on a page into a palpable emotion or effect takes a special kind of magic.
–"Hotness" means HOTNESS. Do we want to spend at least fifteen minutes in a closet with this person? If we don't, then do enough OTHER people want to?  C'mon; lest you label us shallow, take a look at the list.
–The "Hotness" of the show itself. Is it a ratings and/or critics' smash? We know; we know; there's a lot of GREAT television sitting at the bottom of the Nielson charts. We're sorry about that. If you want to rescue your fave show, DO something about it. Just ask the fans of "Star Trek", "Jericho", "Quantum Leap" and several more how that can go.
–The OVERALL "It factor" of the star. Does he/she also write, produce or direct? Does the world "outside" their show know who they are? Are they seen in mediums outside TV? And how well do they play in the Hollywood sandbox at large?
Last disclaimer: Like a box of See's or Crayolas, some things are too good to be "ranked". We haven't picked favorites because we couldn't. Give us your feedback: who's YOUR "Number One"?
The Men:
IAN SOMERHALDER as Damon Salvatore on THE VAMPIRE DIARIES, The CW Network. Never-EVER in the history of TV has bad looked so good. Every week, Somerhalder's piercing stare and silent torment have us screaming at Elena to stake Stefan and turn to the Salvatore who has loved her from afar with such aching intensity. Thank you, "Lost", for killing him off so early so we could enjoy him as this hunk of undead deliciousness. If the guy's acting ability isn't enough, his love for the planet, particularly animals, has gained him such a rep that he's started his own Ian Somerhalder Foundation to help them , even telling fans that if they make a donation in honor of his birthday on December 8th, he'll respond in kind with a personal email. We need the world to wake up about this guy—especially the Emmy voters.
MICHAEL TREVINO as Tyler Lockwood on THE VAMPIRE DIARIES, The CW Network. What a difference a curse makes. Until this season, Tyler's been a conflicted, self-absorbed brat. Now, he's a conflicted, often shirtless vampire-werewolf hybrid who makes us reeeaaallly want to change our name to Caroline.
JASON O'MARA as Jim Shannon on TERRA NOVA (Fox) Purists keep whining that they were promised dinosaurs, and got a family drama,
instead. Who cares when O'Mara hits the screen? Whether he's trading steely gazes with Stephen Lang, being the picture-perfect TV dad or—best of all—finding convenient excuses to shed his shirt, this writer is hooked. The Flintstones can have the brontosaurus; just give me MORE O'Mara!
ALEX O' LOUGHLIN as Steve McGarrett on HAWAII FIVE-O (CBS).  Sorry gang; this one's a no-brainer. OK yeah, I'm a sucker for those Irish boys (see a list of Irish actors on Irish Film and Television Network), and this one had me back at "Moonlight" (which was canceled WAY too prematurely; do you hear me, CBS?!?) But the Universe took care of this talented creature, who's finally landed a hit series as a yummy, wise-cracking, oh-so-Alpha crime fighter—in Hawaii! GQ Australia recently had the smarts to crown him their Man of the Year, as well. Maybe there is a God.
JAMIE DORNAN as Sheriff Graham on ONCE UPON A TIME (ABC). The most enigmatic of the Storybrooke hunks has us captivated—especially after the bombshell that got dropped in November 13th's episode. Good Guy? Bad Guy? We hope for the former but know we'll accept the latter, if it's encased in this former Calvin Klein model who's perhaps the only person in the world who can rock a button-up vest and a leather jacket at the same time. We're also intrigued by that upcoming kiss with Emma…hmmm!
THE MEN OF "TRUE BLOOD" (HBO). We're going to admit it. We couldn't agree on which Bon Temps goodie to include, so we chickened out and gave them all the award. Pick your favorite flavor. Confused bad boy you long to redeem?
RYAN KWANTEN (Jason Stackhouse) is your guy. Tormented leading man who'll love you with every fiber of his  being? Then STEPHEN MOYER (Bill Compton) is for you. Enigmatic vamp who makes your blood run hot and cold at the same time? Look no further than the gorgeous ALEXANDER SKARSGARD (Eric Northman). Is "Beauty and the Beast" your game? Than a romp with hottie werewolf JOE MANGANIELLO (Alcide) is your dream-come-true. Nelsan Ellis (Lafayette Reynolds) is the straight-shootin' man with a past, a flamboyant entrepreneur with his own brand bad boy sex appeal. Lafayette is also believed to be the fashion statement of the show with a big following in France – unapologetic, mysterious and not so easily available. And on a show that's more noted for what its stars aren't wearing rather than the fashion picks, there's nothing wrong with picking more than one. Additional hotness factor is the street cred these guys tote: Kwanten holds a degree in business, is a published writer and competes in biathlons; Moyer is the main patron of his hometown theater; Skarsgard stars opposite Kirsten Dunst in one of this year's most riveting indie flicks "Melancholia", and Manganiello holds a BFA in Acting from the Carnegie Mellon School of Drama. Ellis is an award winning playwright whose semi autobiographical play titled "Ugly" about the effects of domestic abuse won him Lincoln Center's Martin E. Segal Award.
ANSON MOUNT as Cullen Bohannan on HELL ON WHEELS (AMC): Holy crap, AMC. Just when we thought you couldn't get any better ("Mad Men", "Walking Dead" and "Breaking Bad", anyone?), you bring us "Hell on Wheels". Still, we doubted. A show about constructing a railroad…really? We now bow our heads in shame—especially if it's to kiss the boots of Anson Mount, the most intoxicating Tennessee export since sour mash whiskey. We haven't seen a beneath-the-Stetson brood like this since Clint Eastwood. Choo choo and nom nom. Mr. Mount is so gooey, fresh and new, we couldn't find a website for him yet; but you can follow him on Twitter: @AnsonMount.
EVAN PETERS as Tate Langdon on AMERICAN HORROR STORY (FX): I told myself I couldn't go overboard on gushing about my favorite new show of the year. But Peters deserves the gush and then some. You don't blink when he's on screen as Tate, a teen with the face of Peter Pan and the mind of Hannibal Lecter. But despite the work that should earn him every award in the book, I still struggled with the call: go with Tate or Black Rubber Man? Ryan Murphy, how I worship thee for making my decision easy.
DAVID BOREANAZ as Seeley Booth on BONES (Fox): Buffy's loss has been Temperance's gain for 7 seasons—and we are so glad. Gee; I never knew I had a secret fantasy about graveyard sex with a smartass F.B.I. agent until you, Mr. B. Now to convince the hubz that he too needs a "Cocky" belt buckle.
CHARLIE HUNNAM as Jax Teller on SONS OF ANARCHY (FX): This British export is the centerpiece of a rich and multi-talented cast. Anti-hero Jax must wage a fierce inner battle between loyalty to family and a growing moral compass. Hunnam is the ideal man for the job, bringing a rich, critically-acclaimed resume to the table that includes "Cold Mountain", "Children of Men" and, to be released in 2013, the Guillermo del Toro adventure "Pacific Rim". Get ready to hear and see more—a lot more—of this golden god with the major acting chops.
THE LADIES:
SARAH MICHELLE GELLAR as Siobhan Martin and Bridget Kelly on RINGER (CW): She's back; she's back! TWO roles in one. We're grateful. End of story. (Though we really wanna know when someone will start mentioning a David Boreanaz cameo…pretty please?) There are several fan sites set up for SMG.
ZOOEY DESCHANEL as Jess on THE NEW GIRL (Fox): The Fox website tags her show as "Simply Adorkable", and despite the corny, we agree. Rimmel's glamorous spokesmodel is also everyone's favorite girl geekazoid: let's face it; who else could rock a 50's A-line skirt AND a turkey costume? Those eyes. That hair. That smile. She's hot; we're in love.
MELISSA MCCARTHY as Molly Flynn on MIKE AND MOLLY (CBS): She rocked her Entertainment Weekly cover shoot as Queen Elizabeth AND the Queen of Hearts. She's our queen, too: turning her curves and craziness into one of the most bankable stars of the year. After literally stealing the screen from Kristen Wiig and gang in "Bridesmaids", she was snatched up by Chuck Lorre for the CBS sitcom that just earned her an Emmy win as the kind-hearted Molly. Now, production companies are clamoring to hitch themselves to her. Well done.
LANA PARRILLA as The Evil Queen and Regina, on ONCE UPON A TIME (ABC): Not since Faye Dunaway ranted about wire hangers have we taken such glee in an actress's pure, bitchy evil. The magic of Parrilla's performances, so perfectly on-pitch EVERY week, is that at times, you almost believe Regina's got a soul…allllmost. Also putting this diva solidly on our list are the over-the-top holiday spots featuring Parrilla in a gorgeous black Queen Bee outfit, poison apple in hand, daring us to have a great holiday. All together now: "You have NO idea what I'm capable of!"
MEGHAN ORY as Ruby on ONCE UPON A TIME (ABC): This cast, so flush with amazing female talent, deserves two entries on the list. The world already knows about the incredible Ginnifer Goodwin and Jennifer Morrison, but there's another shout-out due to Ory, who makes every second of her screen time count. With the beauty of an early Angelina Jolie written all over her, we can't wait to see Ruby get her full fairy tale back story. We hope there's a flesh-and-blood version of the glass wolf waiting in it, along with more of this actress's riveting energy.
KAT DENNINGS as Max Black on TWO BROKE GIRLS (CBS): We music geeks fell in love with her in "Nick and Norah's Infinite Playlist". Though it feels a little hard to give up our best-kept-secret to the world, it's nevertheless awesome to see Kat in a role that's perfect for her: brainy but beautiful; sassy but sensitive. Max is the perfect complement to Beth Behrs' Caroline Channing. It doesn't hurt when you have a face everyone wants to just keep looking at.
EMILY VAN CAMP as Emily Thorne on REVENGE (ABC): Probably the most talked-about new show of the year is ABC's new nighttime soap-opera "Revenge": and at its center is the gorgeous VanCamp, whose sunny blonde mien has you thinking Disney Channel instead of murder-minded Hamptons socialite. But—wait for it—once VanCamp puts "the croc" into play, you'll think differently. That's the star's word for her character's expression when a flashback is about to occur, taking you deeper into the mind of this fascinating femme fatale. Add a wardrobe to die for, a long line of earnest suitors, and you have the "Count of Monte Cristo goes Cinderella" twist that's captivated the world. VanCamp has the street cred to pull off the role, having come from the drama-filled worlds of "Everwood" and "Brothers & Sisters". Yep, "The Croc" is certainly hot.
Claire Danes as Carrie Mathison on HOMELAND  (Showtime):  She had her breakout role as Baz Luhrman's Juliet. Now Ms. Danes is all grown up, and proving she's still worthy of the Hotness Factor, in her role as a CIA agent who may or may not be "playing with a full deck". This show is built on a script, and a performance, that leave the viewer to question their own assumptions of who may be lying, insane or both. That Danes does so with such elegance and style have us glued to our DVRs—and calling Hugh Dancy a lucky man, indeed.
SOFIA VERGARA as Gloria  Delgado-Pritchett on MODERN FAMILY, ABC: It's the year of the sitcom, and there's no bigger one than "Modern Family". The entire cast is comedy magic, but the hottest commodity among them is, without argument, Ms. Vergera. With an Emmy nom under her belt for her role, she's channeled the television success into exposure on every magazine cover on the planet, along with huge endorsement deals for Kmart and Cover Girl. That takes care of the female demographic; cue the readerships of mags like "Stuff", "FHM", "Maxim" and ASkmen.com, all of whom have voted her to their "Hot" lists for two years running, and you have a true hottie on your hands.
DIANNA AGRON as Quinn Fabray on GLEE (Fox): We could argue until Lea Michele hits her next high C about whether the Gleek-fest has truly jumped the shark—but the fact is, everyone's still talking about it, thanks in no small part to Agron's reinvention of Quinn…AGAIN. She began as a prissy cheerleader snob, was dethroned when she got pregnant (and humble), and this year, has taken a turn for the fuschia hair and pissed-off indignation of a confused outcast. Even if we haven't been there before, we feel Quinn's pain. It's a brilliant turn in a show that all too often is passed over as fluff and hype—and thanks to Agron, a return to the soul that's made "Glee" the monolith that it is.
Give us your feedback! Who do you think should be on the list for 2012?