Posted on 30. Jun, 2011 by Henrick Vartanian in Blog Worthy, Events
On Wednesday night, June 29, Hollywood witnessed a bit of English havoc, as Andy and Chaz, two of UK's baddest boys made their not-so-silent escape to America, not for a holiday, not for a big business meeting, but to get out of England and get the hell away. See the VIDEO interviews HERE.
Lock your doors and get online:
A brand new web series  "Andy and Chaz Bugger Off To America" started a journey during the writers' strike of 2008 in Los Angeles. Through improvisational sessions with actors Craig Young (Andy) and Darren Darnborough (Chaz), what started out as an experiment by writer-director Richard Keith, grew into an episodic gangster comedy about two unreliable crooks who suddenly find themselves in the city of angels, escaping London, where they have committed an act far from angelic – accidentally killing their boss's right-hand-man.
Now on the run from their British crime boss, the two brothers find survival in the tempting Los Angeles an unmanageable task as Andy makes attempts to shed the past and live the straight life, while his brother Chazz carries on with his own dodgy ways.
The cast and their chic Hollywood  friends were on hand last night to help celebrate the bi-coastal launch of their new series, taking place simultaneously in L.A. and N.Y.
Psst, we already heard chatter about a feature length project brining the two charming hoodlums to the big screen. More on that later.
Meet The Gangsters:
Craig Robert Young's acting credits include roles on LOST, NCIS, MELROSE PLACE, 10 THINGS I HATE ABOUT YOU, FRINGE and the upcoming feature film RETURN TO THE HIDING PLACE.
Darren Darnborough, newly transplanted in L.A. has appeared on UK's top TV shows EASTENDERS, THE BILL and HOLBY CITY, and will be seen next on HBO's TRUE BLOOD.
Cheered by his creative team for his "beautifully twisted mind," writer-director Richard Keith has a big talent for making people laugh and has done so for over a decade, especially with his film festival hit WANNABE, recently sold to Warner Bros and Marta Kauffman (creator of 'Friends'). Keith has worked in various capacities on major features including WALK THE LINE and is busy working on the upcoming crime-comedy ADVENTURES OF DUDE & BRO.
To watch Andy and Chaz Bugger Off to America CLICK HERE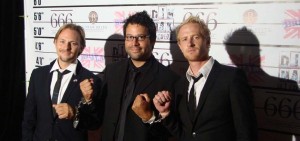 To see photos of the launch party click on the PHOTO GALLERY.
Andy and Chaz official website: http://www.AndyAndChaz.com