Posted on 19. Jun, 2010 by Henrick Vartanian in Blog Worthy, Movies
This is a pretty ambitious swords-and-sandals movie by director Alejandro Amenábar ("The Sea Inside," and "The Others") with lavish sets, rich action sequences and beautiful photography.  Stunning recreations of ancient Alexandria made my eyes wander all over the big screen trying to spot as much information about the place as I could. The action is mapped out to the T and the rest of the production is full of detail and interesting points-of-view. The narrative can get a tad slow but it still tells a great story I have not seen discussed cinematically. The focus on the legendary historical figure, Hypatia (played masterfully by Rachel Weisz) becomes the heart of the film. And it is refreshing to see this female figure of great importance in the center of such violent times. The story takes us to the 4th century Egypt, or better known as the "Roman-Egypt" during complete chaos and religious upheaval. It's Jews and Christians at eachothers throats, making this a rough fight to the finish. But the filmmaker also touches on metaphysical nature of earth and man. The birds-eye-view, and the eye-in-the-sky shots are great indicators of how small we are the humans, and the grand damage we bring upon eachother and the space we occupy.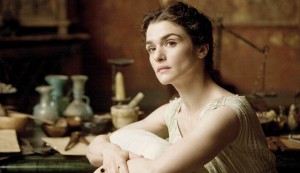 Rachel Weisz is nothing less than magical as Hypatia, and plays the role with motherly instincts. She preserves Hypatia's dignity by standing her ground firmly, but with a certain female sensitivity  – ways perhaps unknown to men, or to the men of that era. Who was it that told me, this big movie (production) gets in the way of Rachel's talents as an actress. I agree!
Let's not forget, Max Minghella (pictured above); son of late filmmaker / playwright Anthony Minghella – oh yeah! I mean, really!
As Hypatia's young pupil, this guy brings a colorful character to the screen loaded with masculinity and perplexity, an on-screen coming-of-age during a rough time where his called upon to take his place as a man in society.
BNH says: See it, on the big screen.